| | |
| --- | --- |
| Adelaide Pictures | |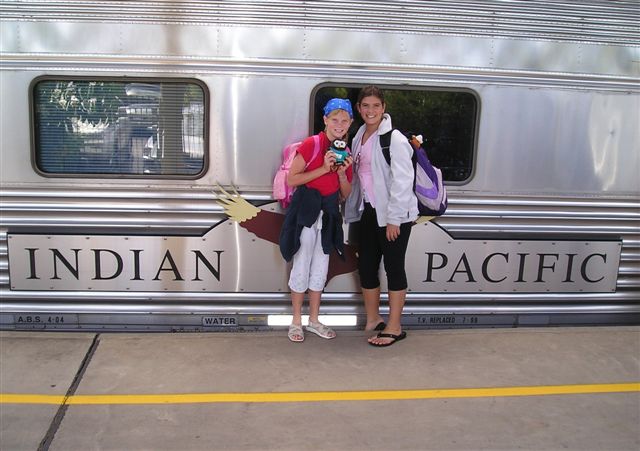 We took the Indian Pacific sleeper train from Sydney to Adelaide.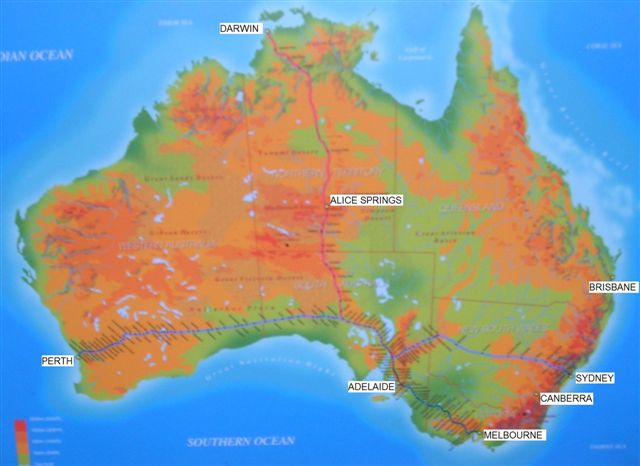 Here is a map of our route. It took 24 hours to get to Adelaide and the distance was about 1000 miles. We learned that the journey from Sydney to Perth takes almost three days and covers more than 2700 miles.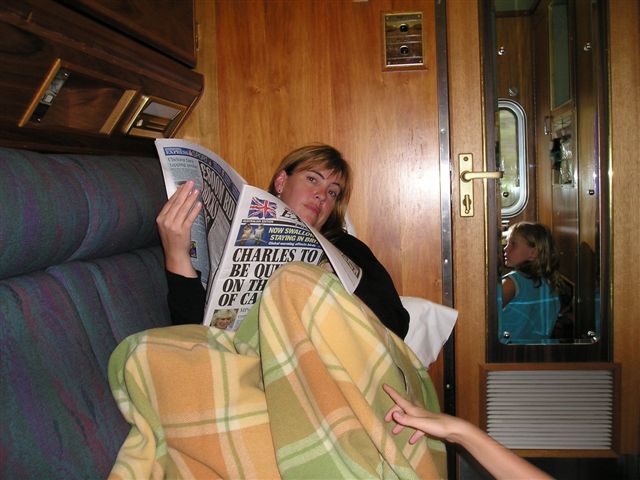 We had two cabins on the train with Cheryl and Todd in one and the girls in the other. Here is Cheryl reading an Australian publication which offered the "The Latest News From Britain."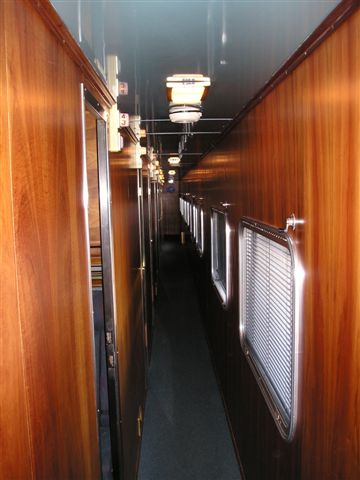 The corridors of the train were very narrow and when the train was moving it was hard to walk without bumping into the walls.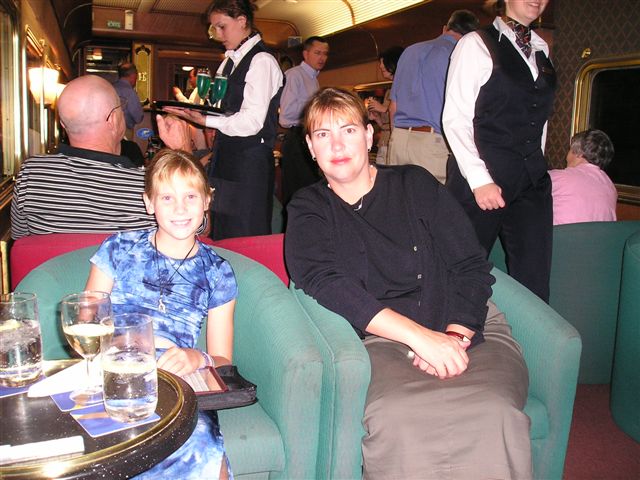 Katie and Cheryl having a drink during the reception party before dinner. They made everyone introduce themselves and we got a round of applause from the group when they learned we were on a round the world trip.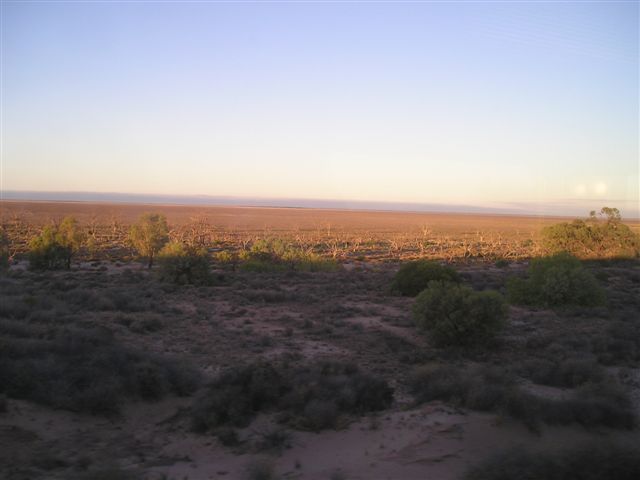 This is what the landscape looked like from the window for most of the journey from Sydney to Adelaide - a kind of desert with white sand and scrub vegetation. We saws kangaroos - usually groups of 2 to 6 - they were always bounding away because of the train noise.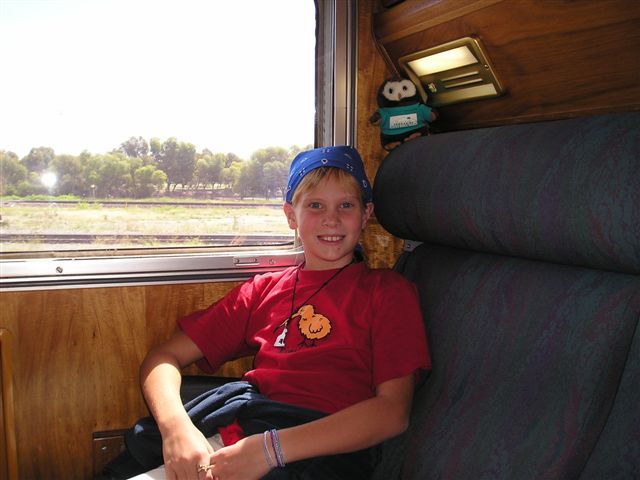 Katie on the Indian Pacific train as we neared Adelaide.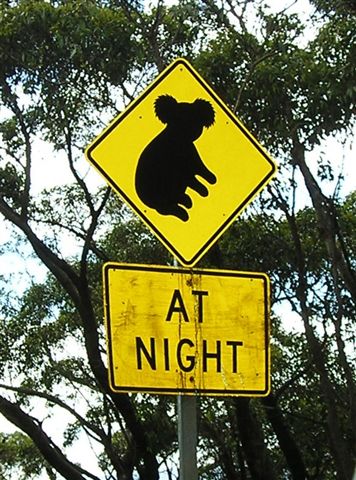 One of the other passengers, a gentleman on the train was from Adelaide and told us of an animal reserve where we could pet kangaroos and koalas. We wrote down the information and drove there the next day in our rental car. Here is a road sign we passed on the way.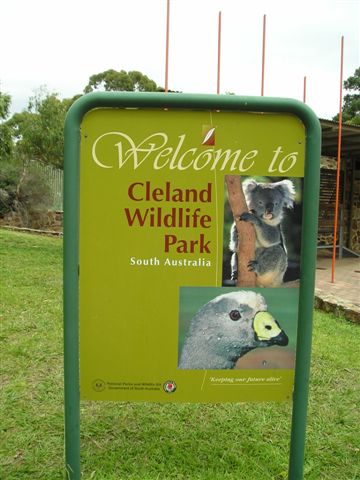 Cleland Wildlife Park is in the Adelaide Hills, about 15 minutes south of the city.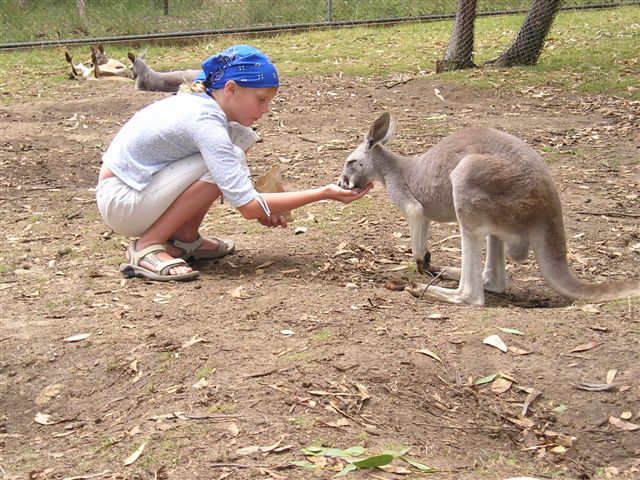 There were lots of kangaroos at Cleland and they were very tame. Here is Katie feeding one.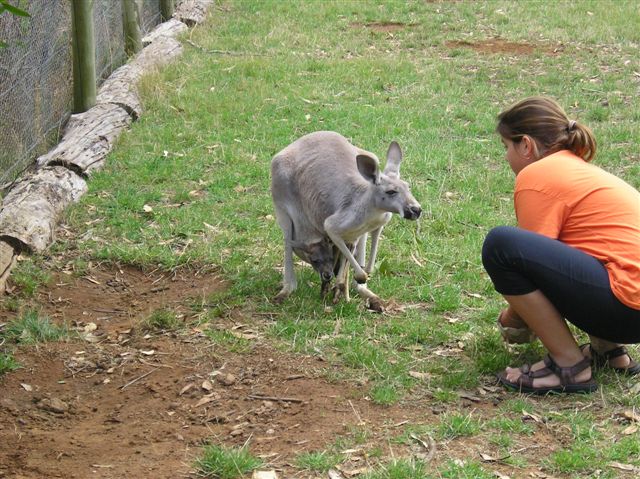 Lauren gets up close to a mother kangaroo - notice the 'joey' in her pouch. The youngster seems a little big to be in there.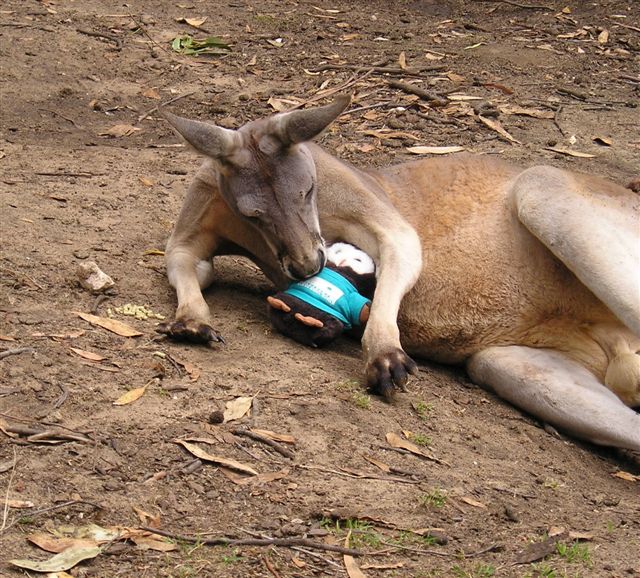 Pueo gets a lick from this kangaroo while posing for a picture.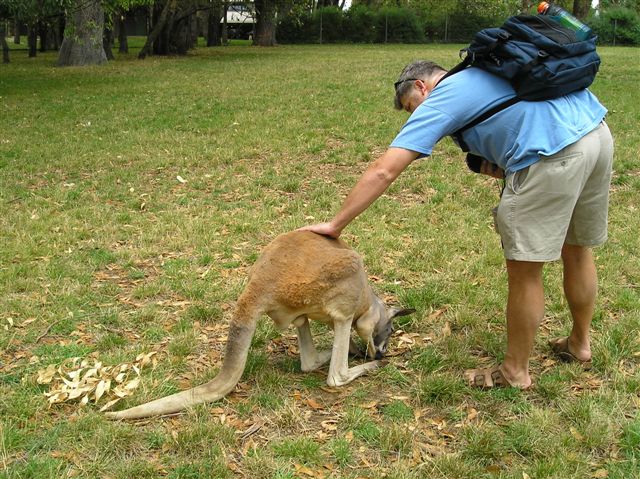 Todd petting a kangaroo. We learned that they scare easily, so we kept our voices low and approached them very slowly. We also learned that kangaroo fur is thick and soft.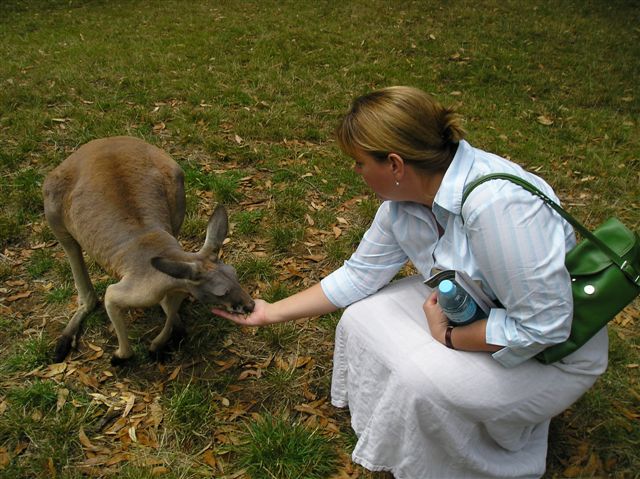 We all got into it.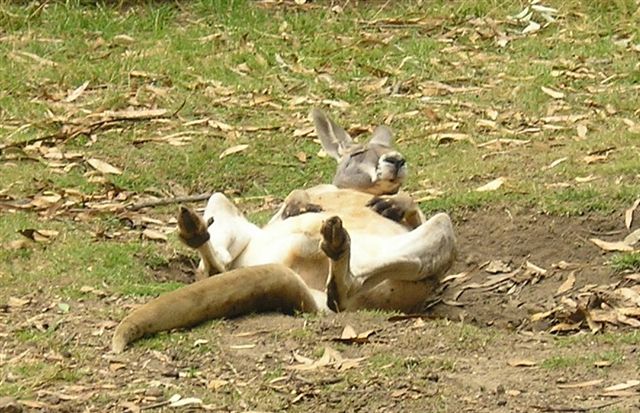 We learned that kangaroos really know how to relax.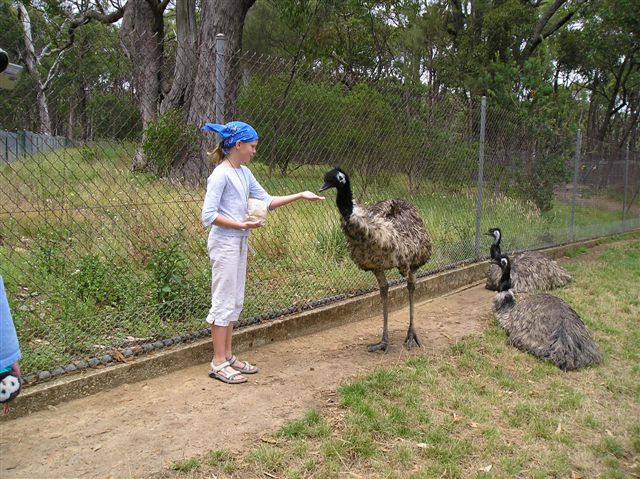 Katie feeding an emu at Cleland.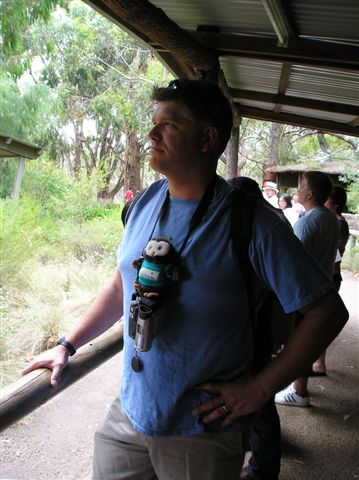 Todd and Pueo waiting to pet a koala.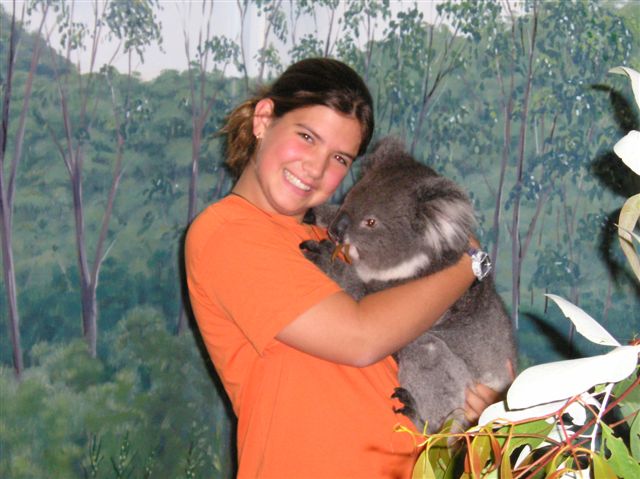 Lauren with a koala. These gentle marsupials sleep 19 hours and eat about 2 lbs. of eucalyptus leaves per day.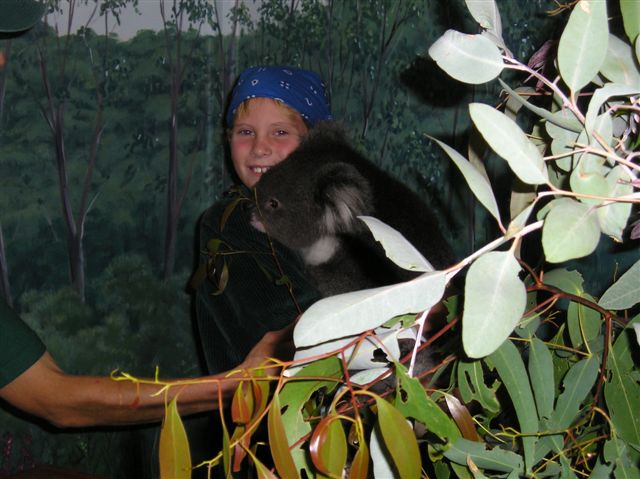 Katie told us her koala was very heavy. At the end of our visit to Cleland Park, both girls agreed this was the 'best day' of our round-the-world trip so far. Thanks Mr. Demetriou!!!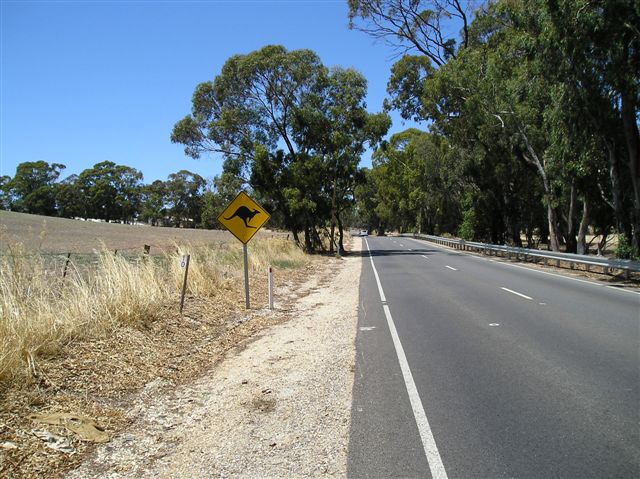 We hit the road in the rental car to visit cousins in the town of Mildura, 200 miles to the east. We saw our first kangaroo caution sign in a wine region called Barossa Valley on the drive. Those are eucalyptus trees in the background - Australia is full of them - and they refer to them as 'gum' trees.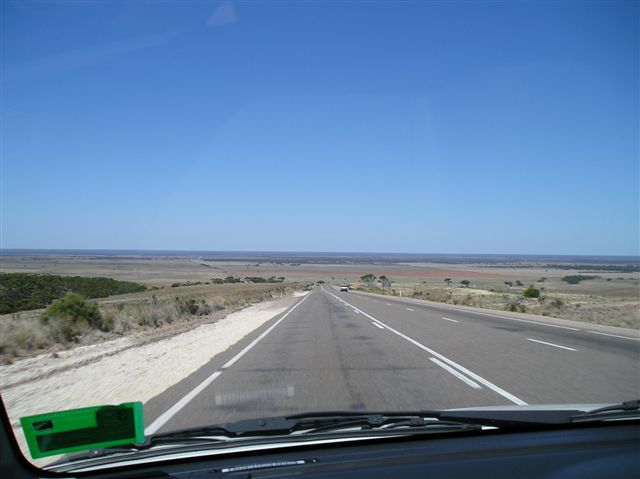 This is what much of the landscape was like on the drive to Mildura - very dry.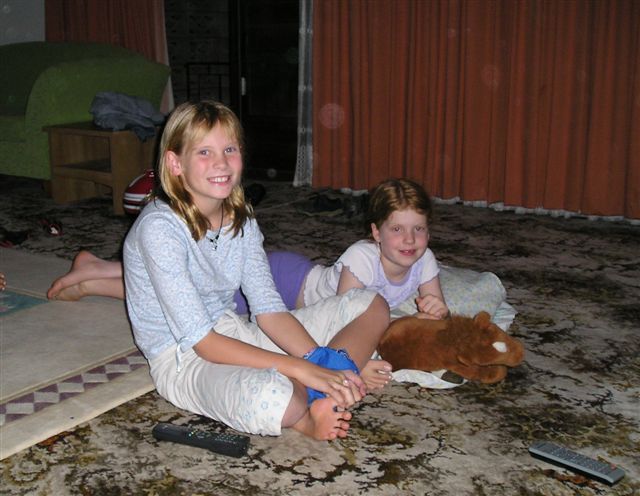 Katie with cousin Caitlin Holdcroft in Mildura.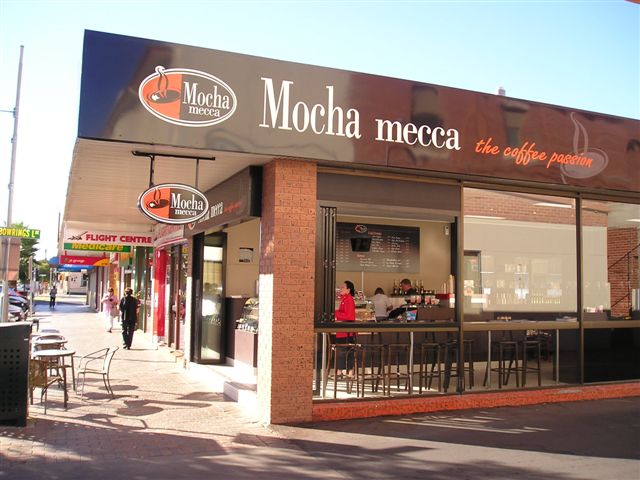 Cousins Luke and Jodie just opened a coffee shop in town.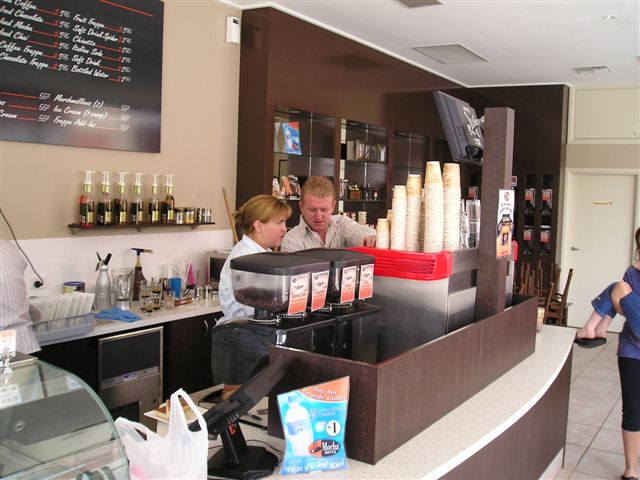 Luke giving Cheryl a demonstration of the new espresso machine at the shop.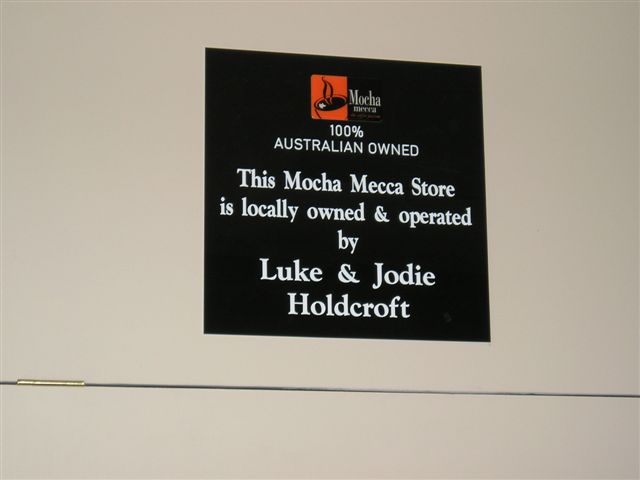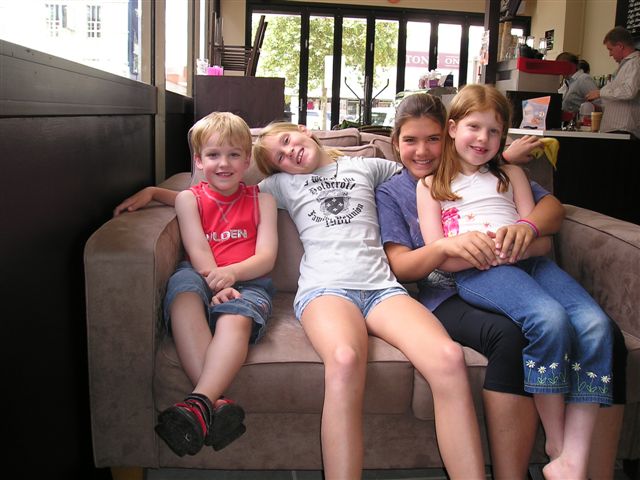 Katie and Lauren with Samuel and Caitlin at the Mocca Mecca coffee shop in Mildura.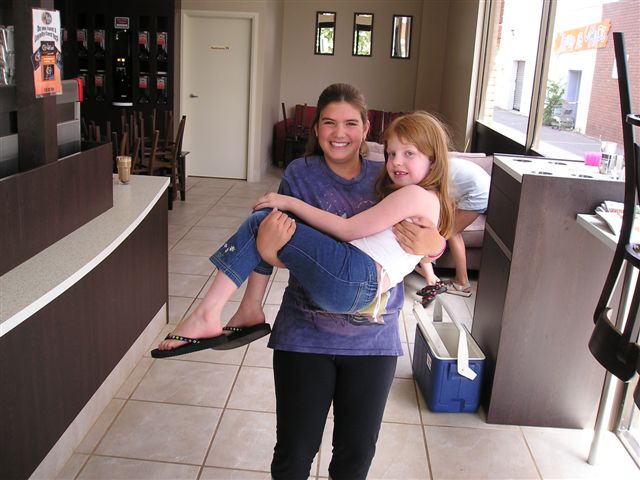 Having fun at the coffee shop.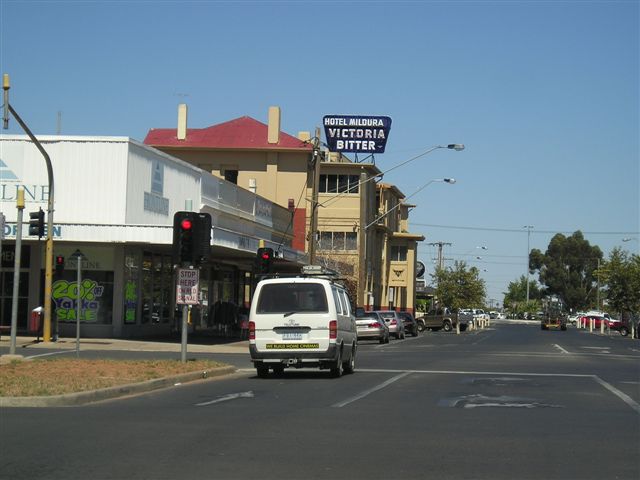 We stayed at Hotel Mildura.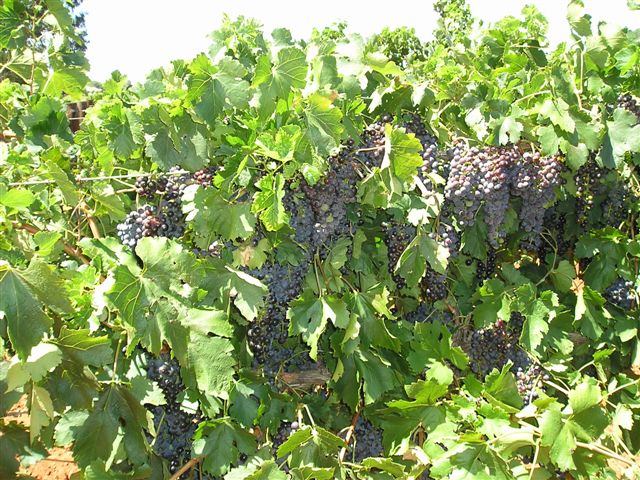 We learned that Mildura is a wine region with water supplied by the Murray River. Luke and Jodie live next to a grape orchard and we happened to be visiting just before harvest. These are cabernet sauvignon grapes according to Luke.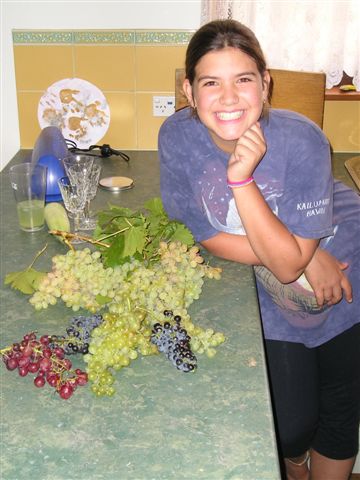 Lauren with a beautiful smile - we got permission before picking these grapes.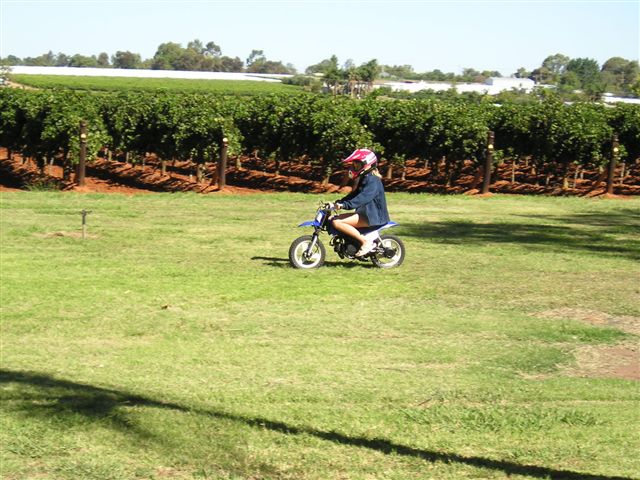 They had pint-sized motorcycle and Katie took a spin in the back yard.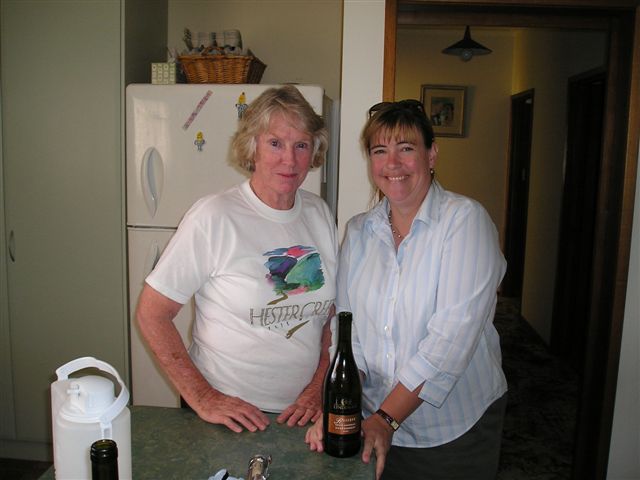 Cheryl with cousin Maureen Holdcroft.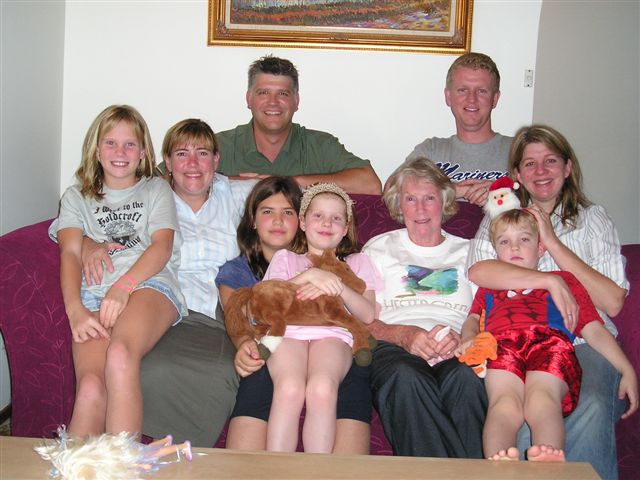 Here is the whole Mildura gang. In front, from left to right: Katie, Cheryl, Lauren, Caitlin, Maureen, Samuel & Jodie. In back, Todd and Luke.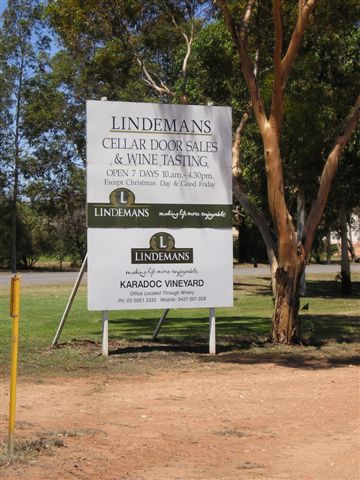 The day we left Mildura, we visited the Lindemans winery in Karadoc, about 15 minutes drive away. This is where the famous Lindemans Bin 65 wine is produced. For those of you who knew Todd's father Lane Holdcroft, this was something just short of visiting the Holy Land.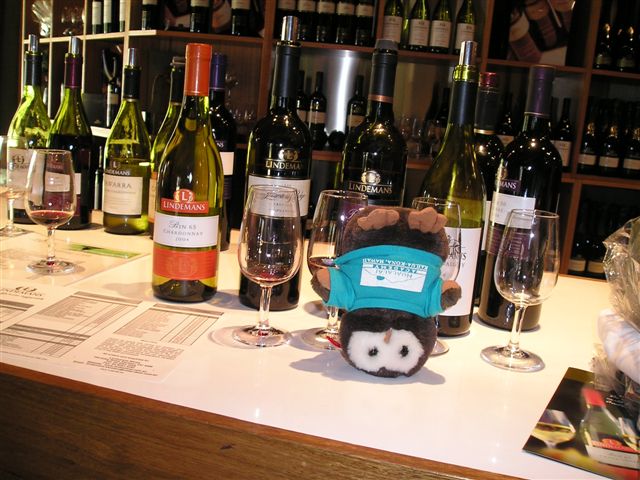 We did some wine tasting at Lindemans - Pueo got a little carried away.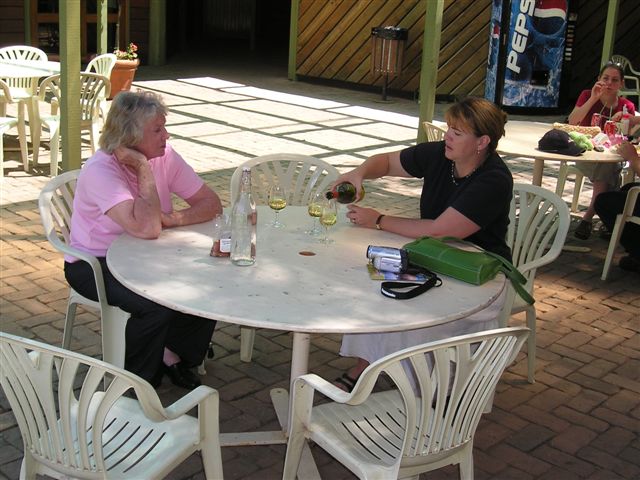 Maureen and Cheryl at the Lindemans winery in Karadoc.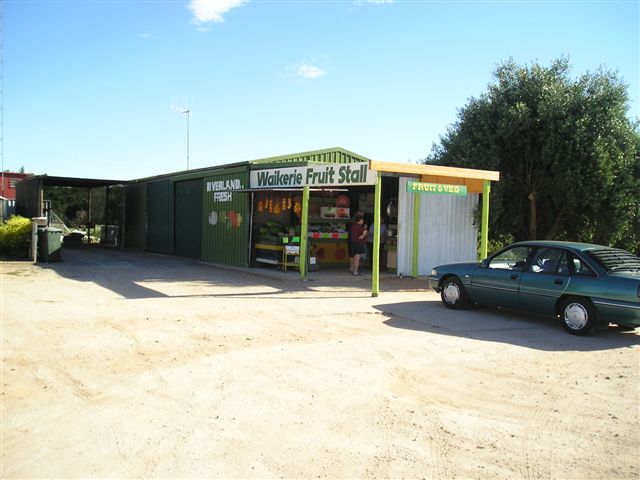 On the drive back to Adelaide we stopped at a fruit stand. The peaches were so sweet they melted in our mouths.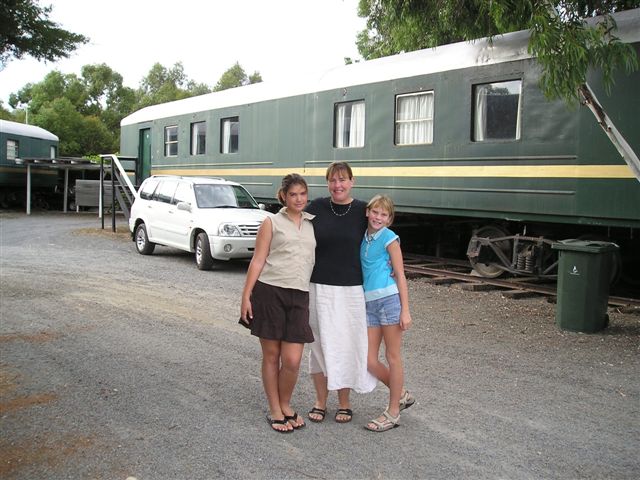 We stay overnight in the Barossa Valley on the way back to Adelaide. Our hotel was a collection of converted railroad cars. That is our room behind Lauren, Cheryl and Katie - and our rental car.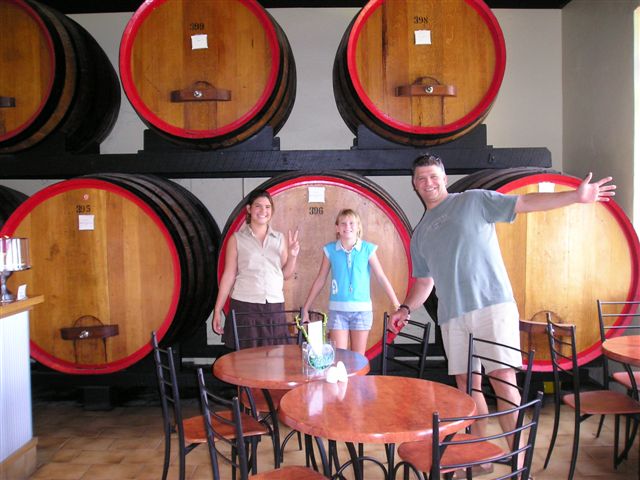 We had lunch the next day at the Grant Burges winery in the Barossa Valley.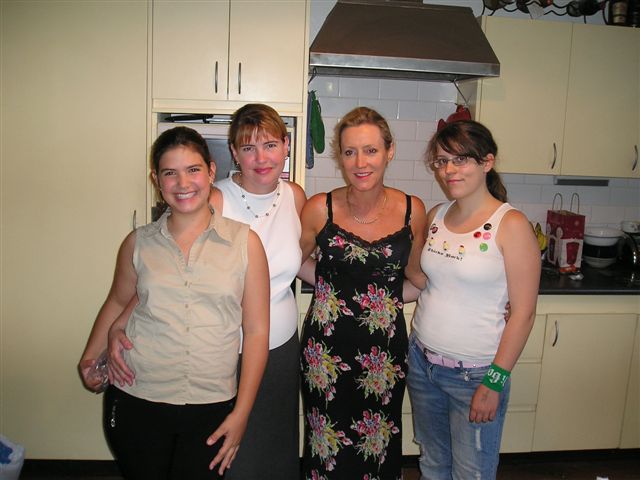 On our last night in Adelaide, Holdcroft cousins Tim & Linda Smith invited us for dinner at their lovely home. Here are Lauren & Cheryl with Linda and daughter Georgina.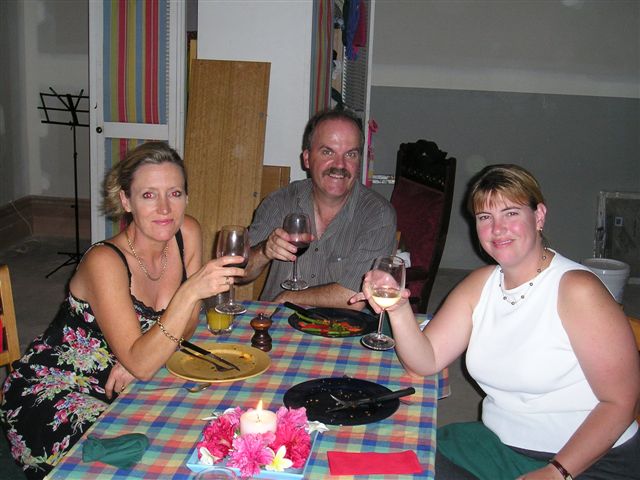 Linda, Tim and Cheryl. Tim fired up the barbie and we stuffed ourselves.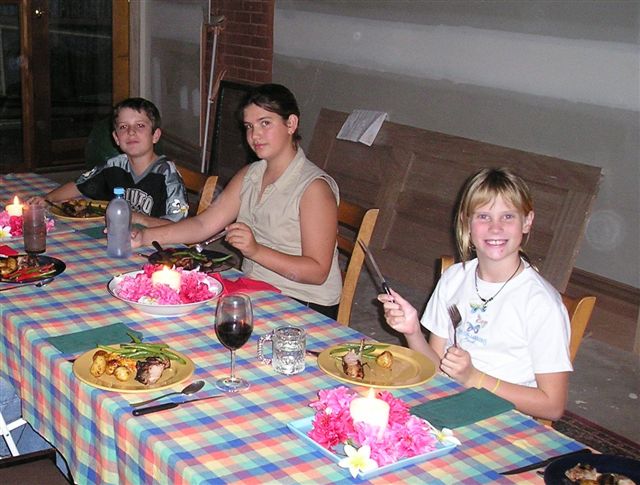 Cousin Angus, Lauren and Katie.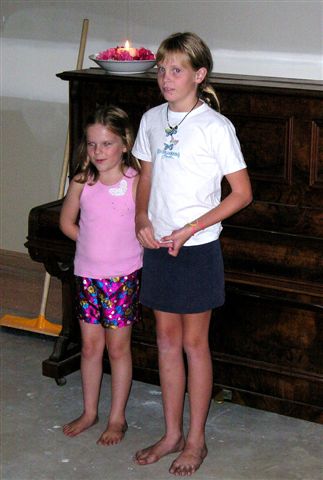 Cousin Madeleine and Katie graced us with their singing talents after dinner.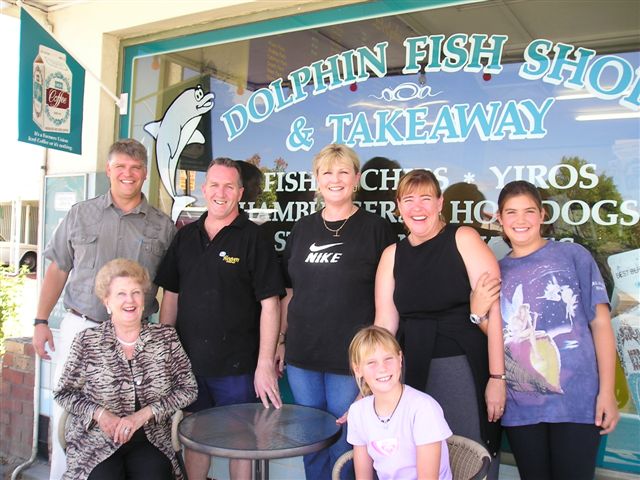 At the railroad car hotel in the Barossa Valley, we met Craig & Jan, fish shop owners from Adelaide. They invited us stop by for a 'good feed' before our flight back to Sydney. So we did and it was delicious. Thanks Craig & Jan!!! That's Jan's mom (sitting left), the company accountant.