Bangkok Pictures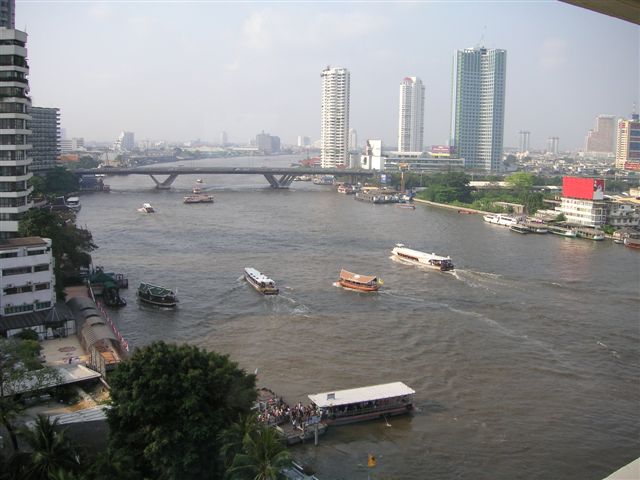 After Chiang Mai, we flew to Bangkok to meet with Duncan & Ellen and friends Dena and Mark (all from Massachusetts). They were on a package tour to Thailand, Cambodia and Hong Kong. We stayed at the Oriental Hotel and this was the view of the Chao Phraya River from our room.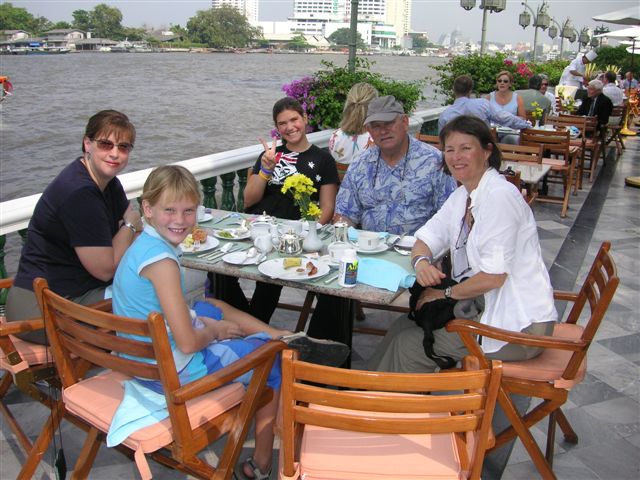 Here we are at breakfast with Duncan and Ellen the morning after they arrived from Boston. Notice the bottle of Advil on the table: Ellen replenished our supply.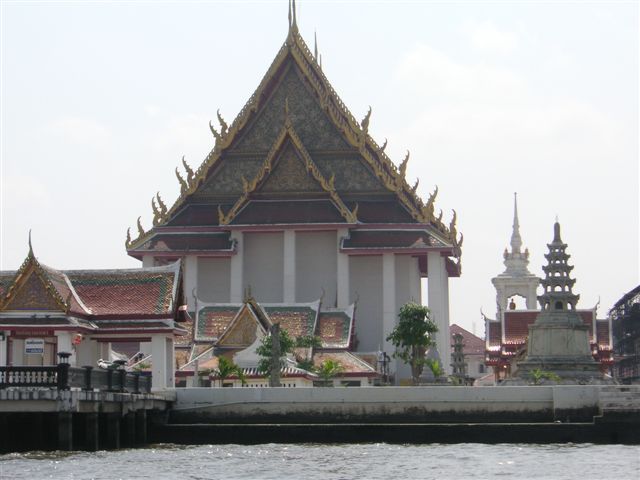 We took river tour and passed this Buddhist temple, called Wat Kalayanamit. It was built by King Rama III in the early 1800s.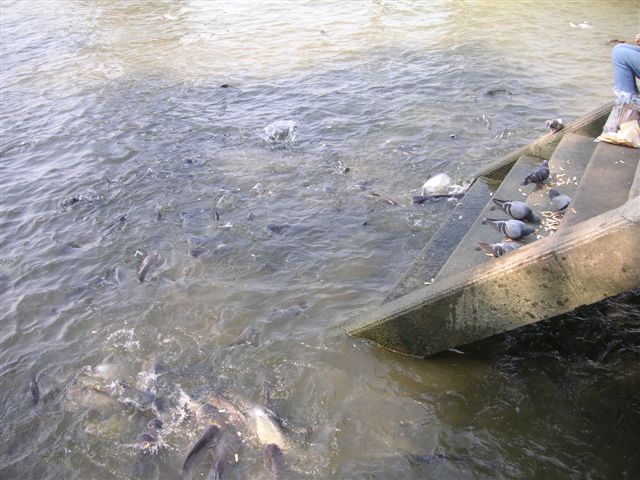 During the tour we stopped at another Buddhist temple and fed catfish with a loaf of bread. Our guide told us that it is illegal to fish in front of a temples. I asked if people do it anyway and he said "No, they don't because they would feel guilty inside."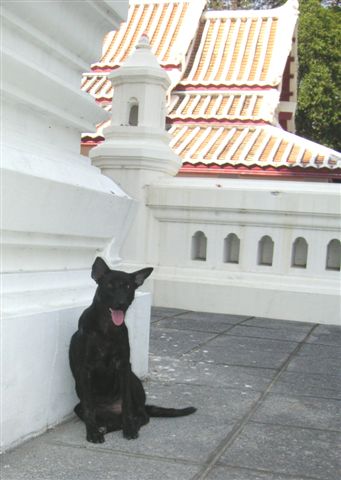 This friendly dog was happy to pose for a picture.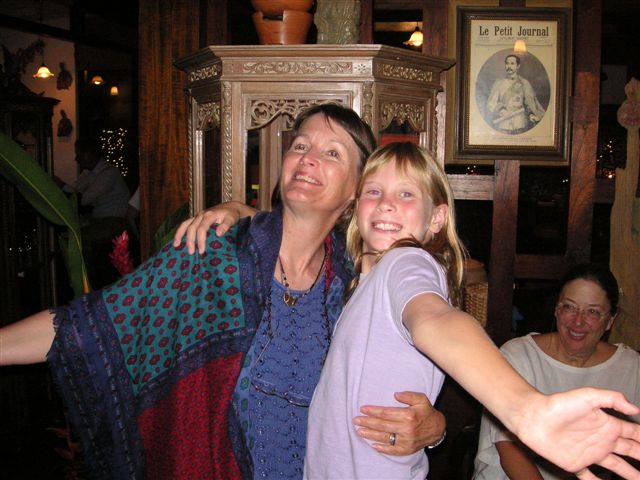 We went out to dinner at a nice Thai restaurant that was just "20 minutes" from the hotel. Ellen and Katie were very enthusiastic about the meal as Dena looks on.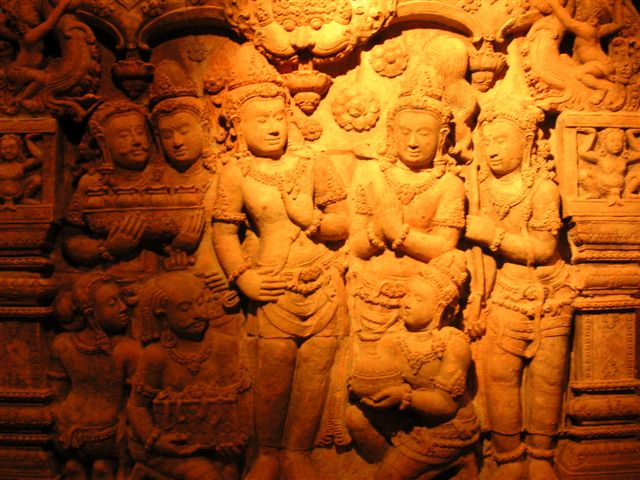 This carved artwork was on the wall at the the Thai restaurant.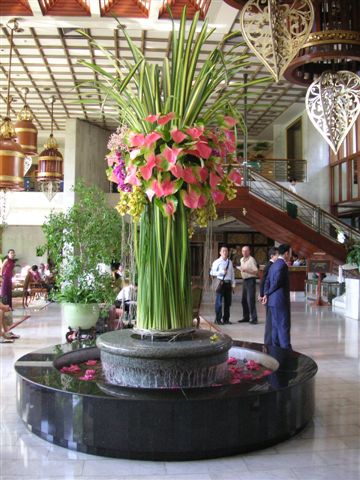 The flower arrangements in the lobby of our hotel tended to be very big and made an impression.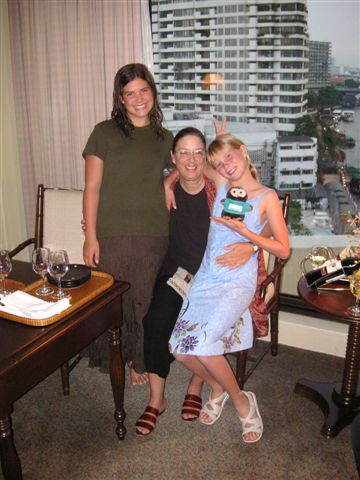 Here Lauren and Katie with good friend Dena in our hotel room. We had a sort of cocktail party so we could drink the (very heavy) bottles of wine we brought from Australia.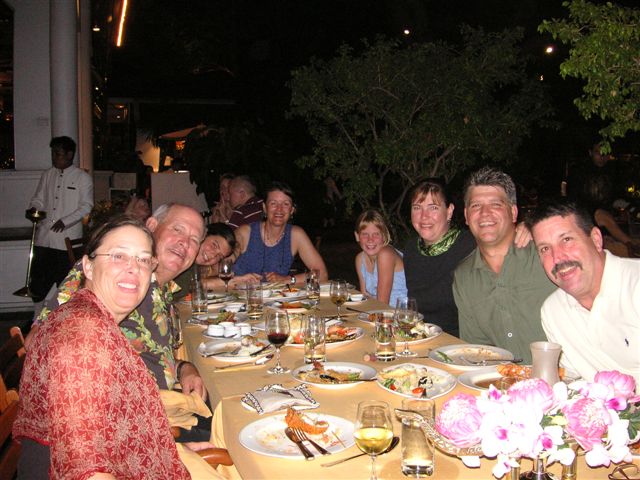 Here we are at dinner on our last night together. From left: Dena, Duncan, Lauren, Ellen, Katie, Cheryl, Todd and Mark.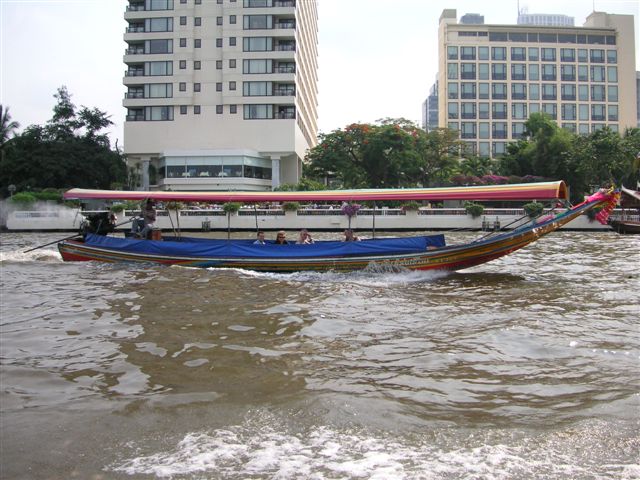 We saw many of these fan-tail boats on the Chao Phraya River in front of our hotel. They are used as water taxis and tour boats. Notice the engine mounted at the back and the long propeller shaft extending to the water.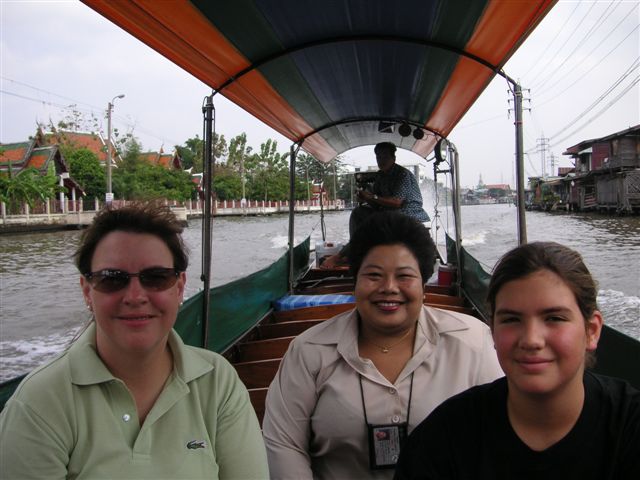 We took another tour, this time on one of the fan-tail boats. Here are Cheryl and Lauren with our guide for the day.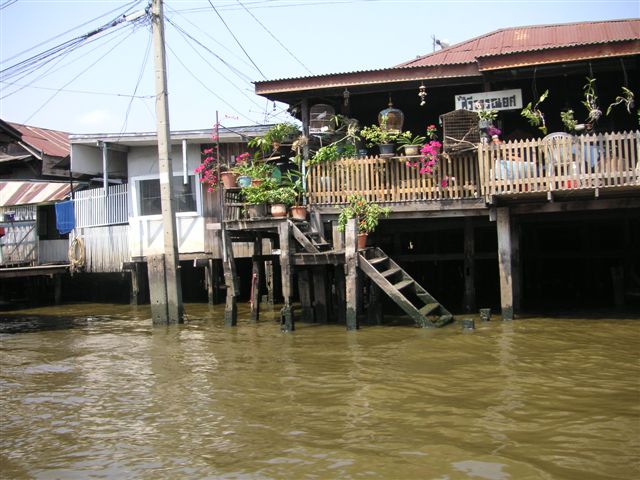 There were a number of canals (called klongs) that link the Chao Phraya River with areas of city. We learned that Bangkok was once called the "Venice of Asia". Unfortunately, in an effort to control flooding, many of the klongs have been filled in or otherwise blocked from the Chao Phraya.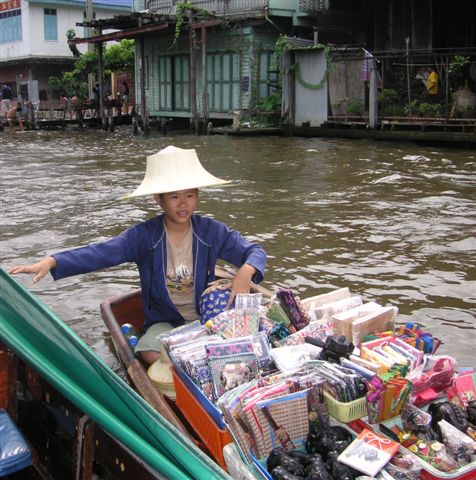 A river vendor pulled up along side and offered her wares.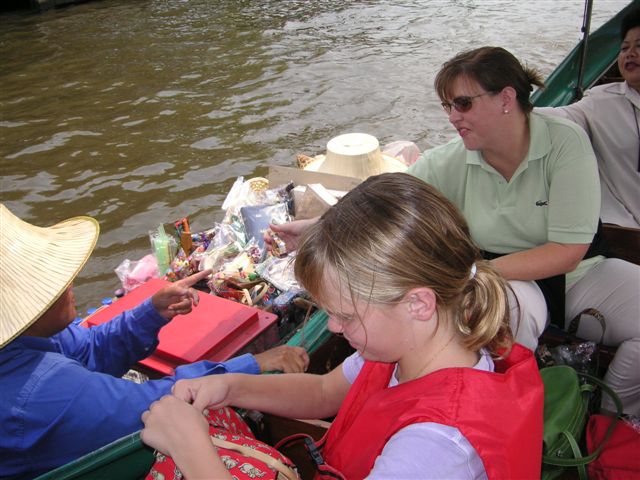 Katie bought a hat from the the lady.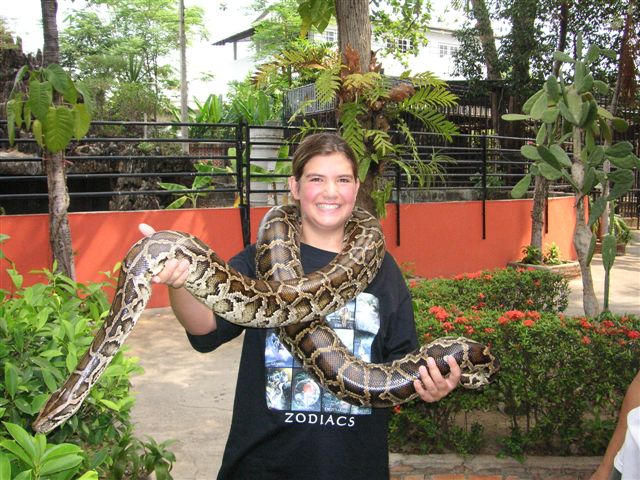 We stopped off at a reptile park during the river tour. There was man with a snake who assured us that the six-foot python would not try to strangle us. He said, "This snake is my best friend."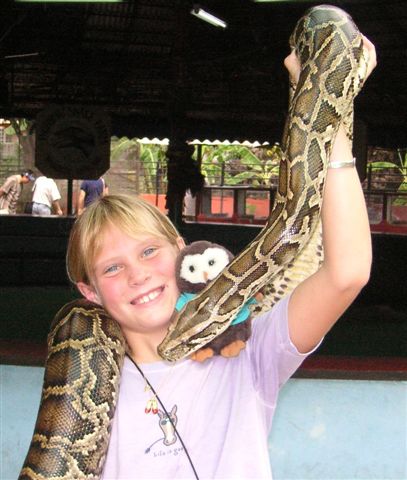 Katie and Pueo got friendly with the snake as well.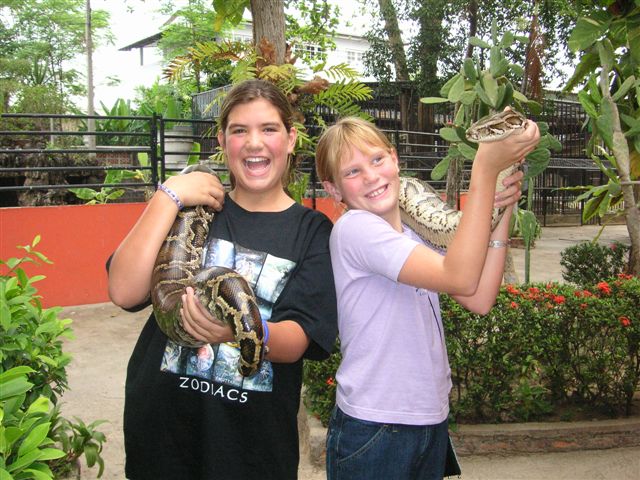 I guess we got carried away with the snake pictures, but we were having so much fun!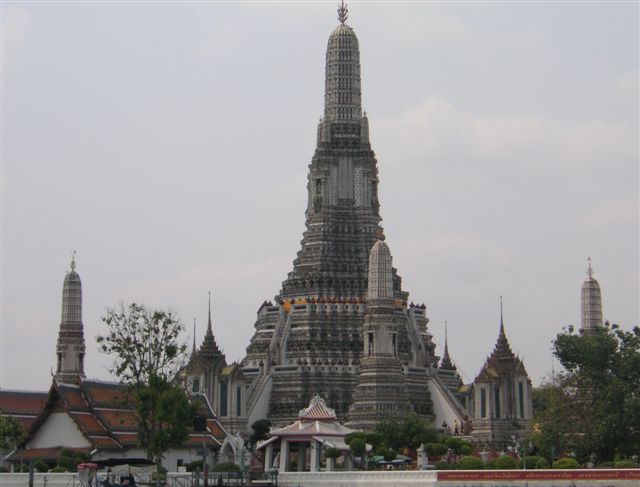 This is Wat Arun which translates to "Temple of the Dawn." It's one of Thailand's most famous temple and is located along the Chao Phraya River. It was started by King Rama II and finished by Rama III in the early 1800s.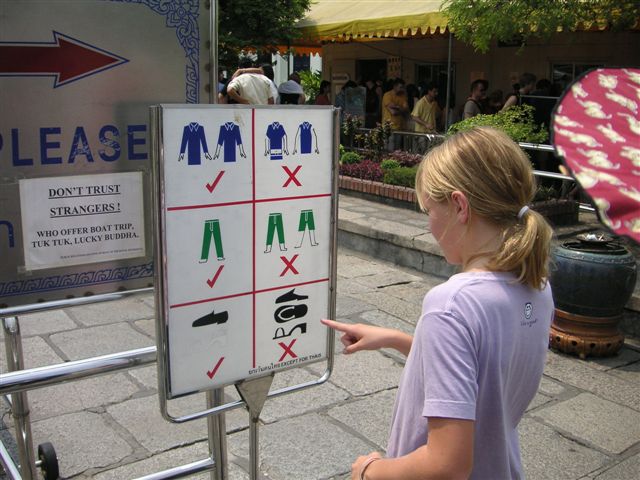 At Wat Pho, they used helpful pictures to let visitors know which clothing was allowed and not allowed inside.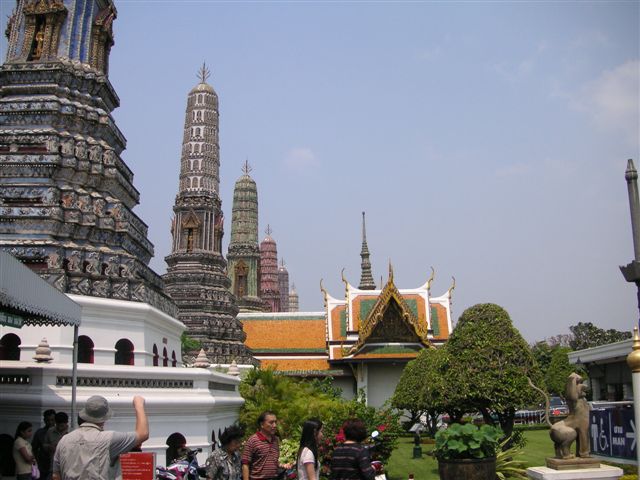 The Wat Pho temple complex is around 20 acres in size and supposedly contains more than 1000 Buddha images.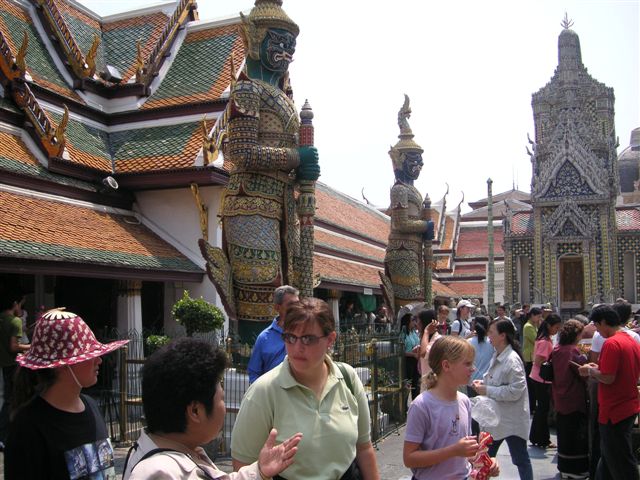 Cheryl and girls with our guide. Those statues are temple guards.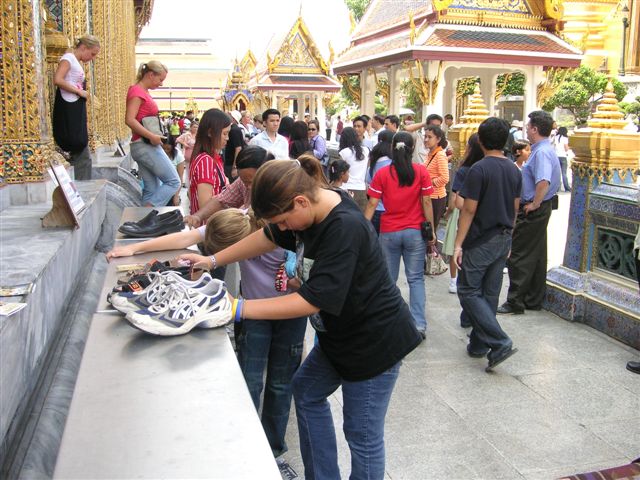 Before entering the main temple hall, we had to take off our shoes.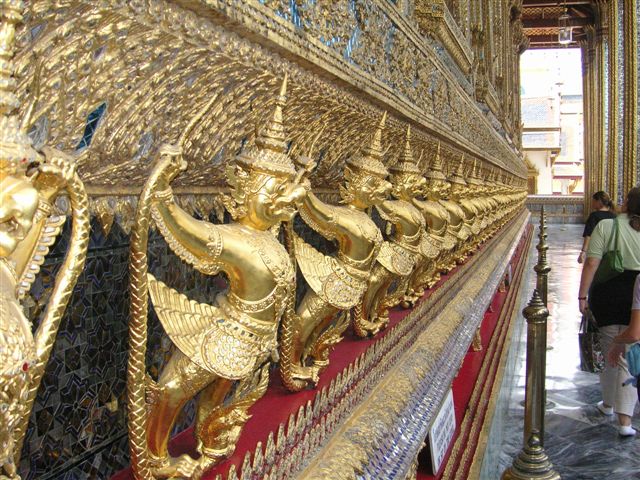 These statues line the outside wall of the main hall.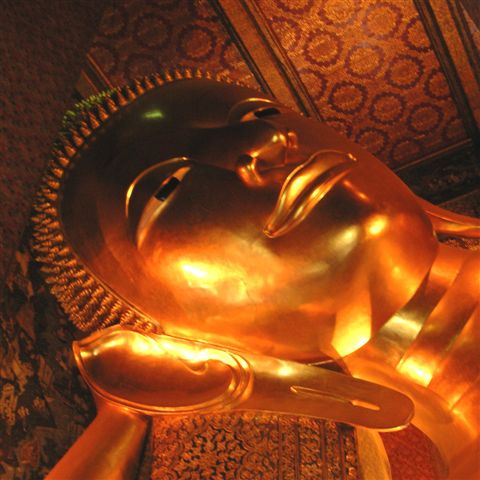 Wat Pho is also the home of the Reclining Buddha. It is made of brick and plaster and covered with gold leaf.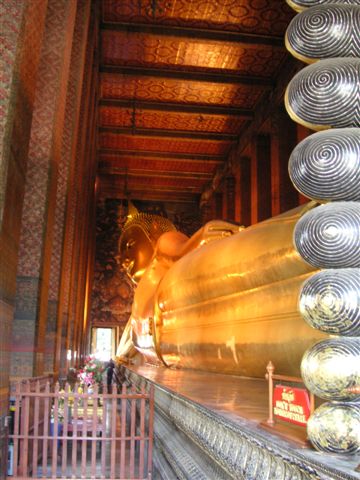 The Reclining Buddha is about 140 feet long and 46 feet high. The feet are inlaid with mother of Pearl.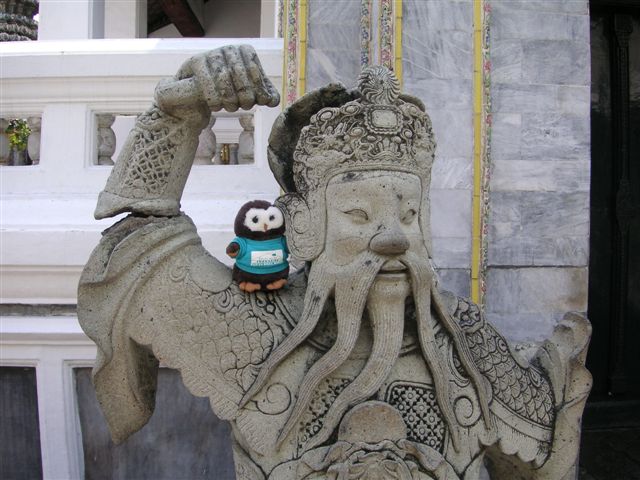 There were a number of these Chinese stone statues around the Wat Pho complex. We learned that years ago they were used as ballast on returning merchant ships that moved lumber and raw products products to China. The Thai king bought them as an interesting addition to the temple.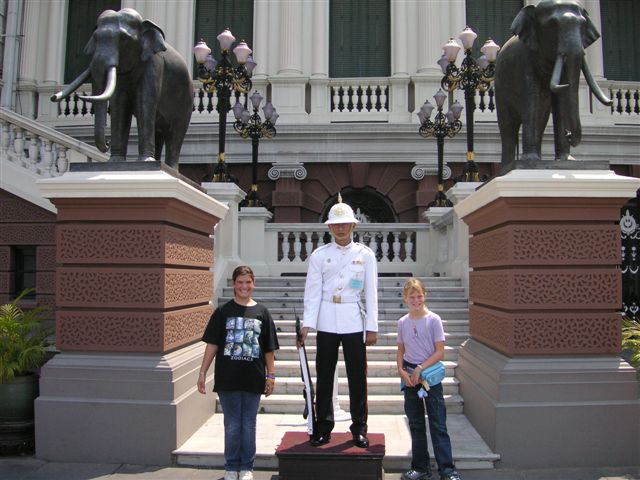 After visiting Wat Pho, we walked next door to the Grand Palace.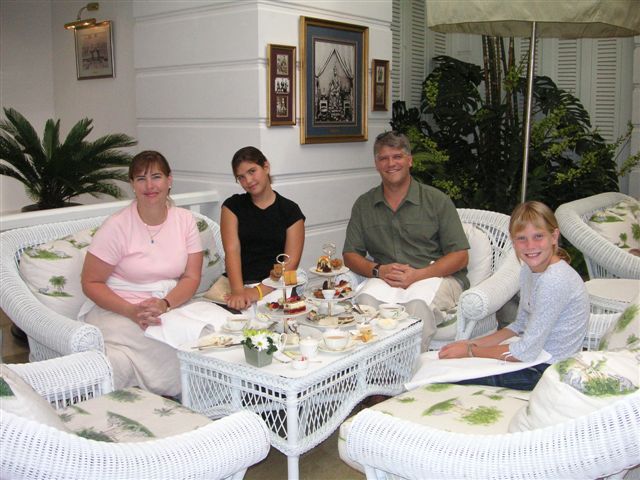 We had high-tea one afternoon at the hotel.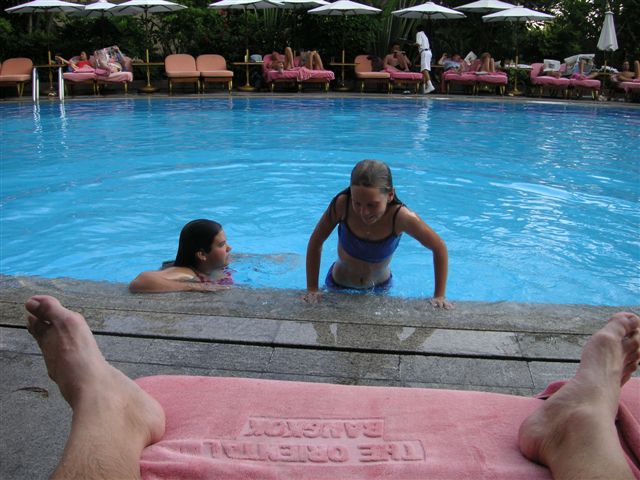 The girls had fun at the pool.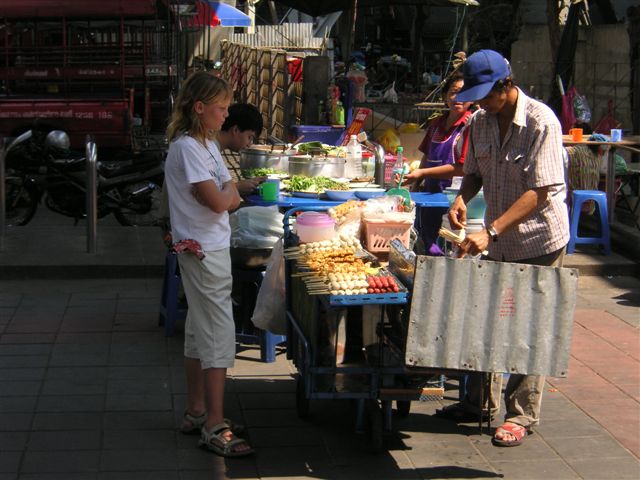 One afternoon we visited to the Jim Thompson House. On the way, we picked up some street food, which is safe in Thailand. Here, Katie waits for her grilled chicken feet... okay, so it wasn't chicken feet.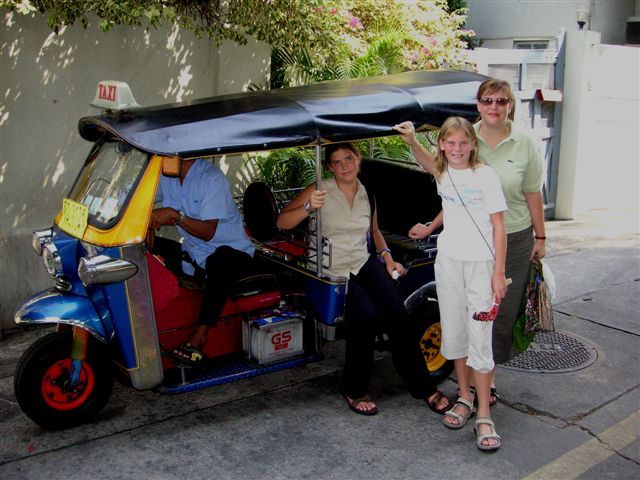 It wouldn't be a real visit to Bangkok without a ride on a tuk tuk.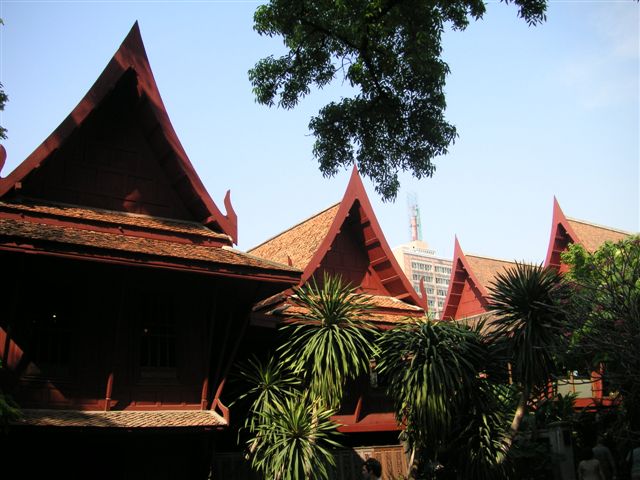 Jim Thompson was an American who lived in Thailand after WWII and is credited with revitalizing the Thai silk industry. He disappeared while on vacation in the Cameron Highlands of Malaysia in 1968. His house, which is now a museum, is actually five or six houses from different parts of Thailand which were reassembled on a small piece of land next to a klong.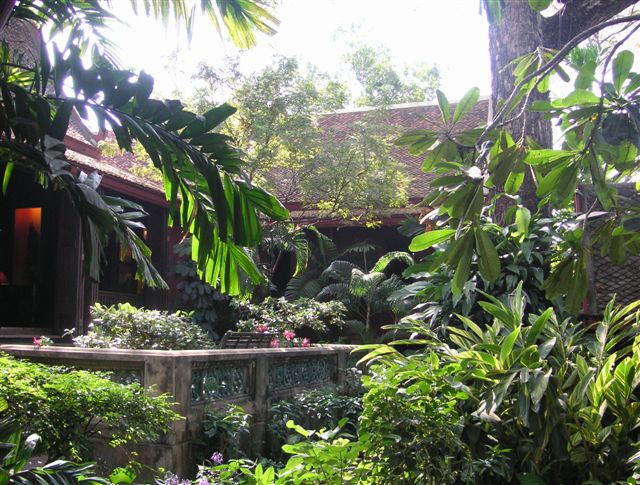 This is the patio of the Jim Thompson House. It faces the klong (to the right out of the picture) and is where he entertained friends, celebrities and dignitaries in the 1960s.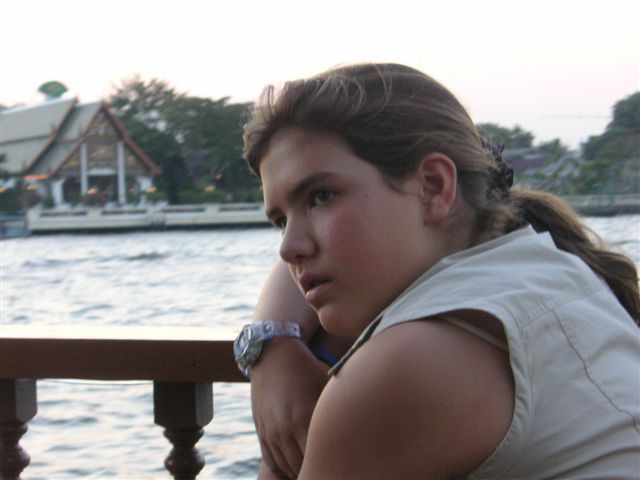 Lauren on the hotel river shuttle.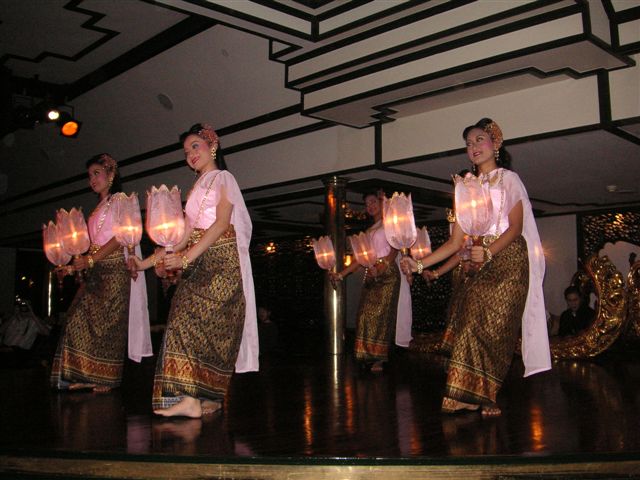 On our last night in Thailand, we went to a dinner show that featured traditional Thai dancing.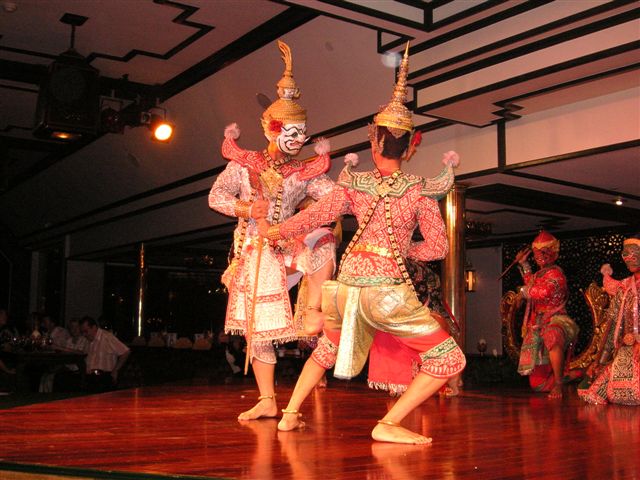 As part of the show, they acted out several Thai myths and legends.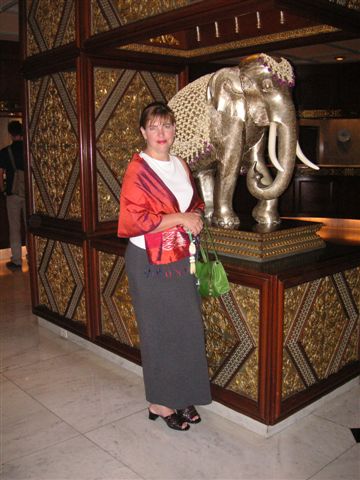 Cheryl in the lobby of the Oriental Hotel.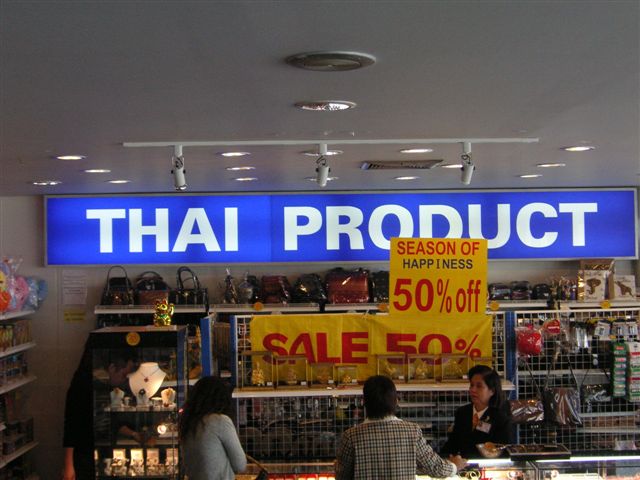 If you enjoy a good butchering of the English language, Thailand will not disappoint you.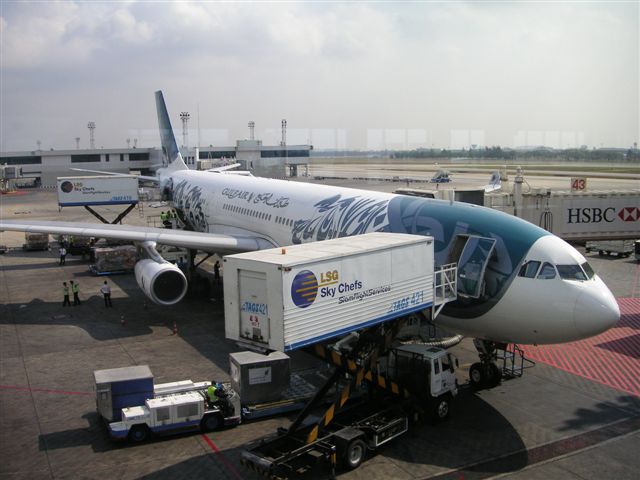 Our flight from Bangkok to Hong Kong was on Gulf Air. Our plane had the fanciest paint job on the tarmac.