Hong Kong Field Trips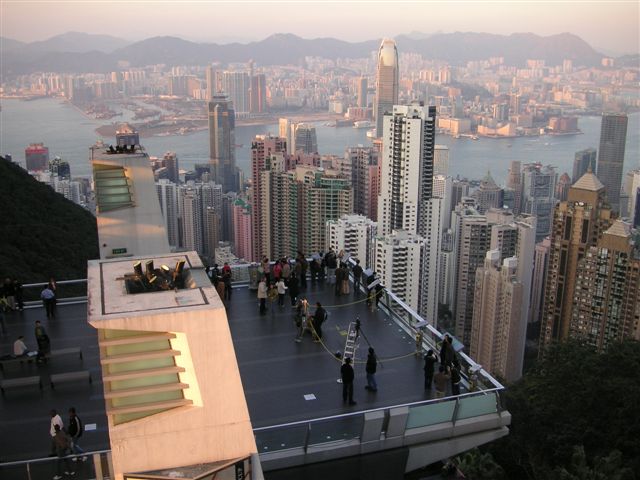 Our first week in Hong Kong was cloudy and cool - highs in the 60s and lows in the 50s. When the sunny weather came, we took the Peak Tram up for views of the city.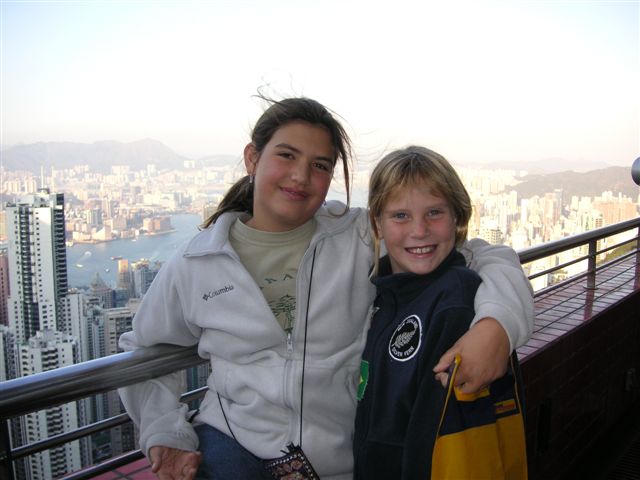 Lauren and Katie at the Peak.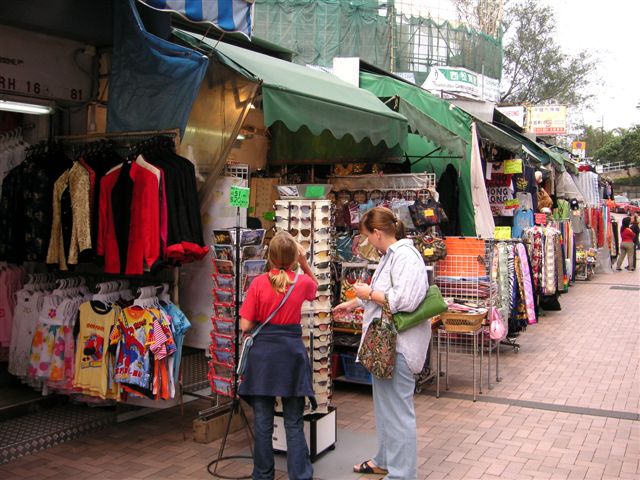 We knew there was a popular outdoor market in Stanley on the other side of Hong Kong Island. So we researched bus routes and headed out for the day.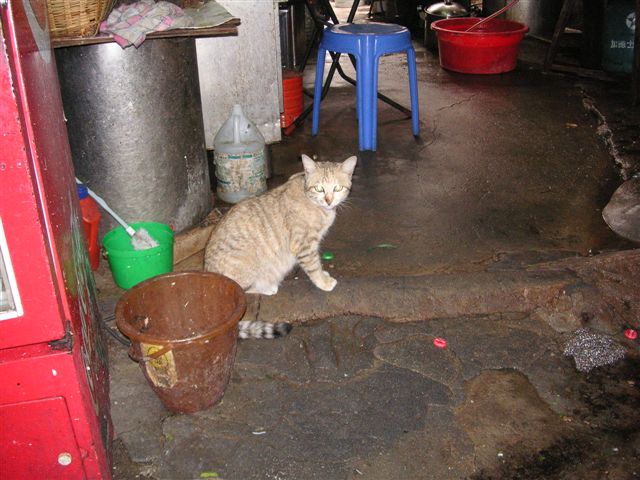 We ate lunch at noodle dive in Stanley. A cat came around looking for scraps with a meow that sounded like it was mentally unbalanced.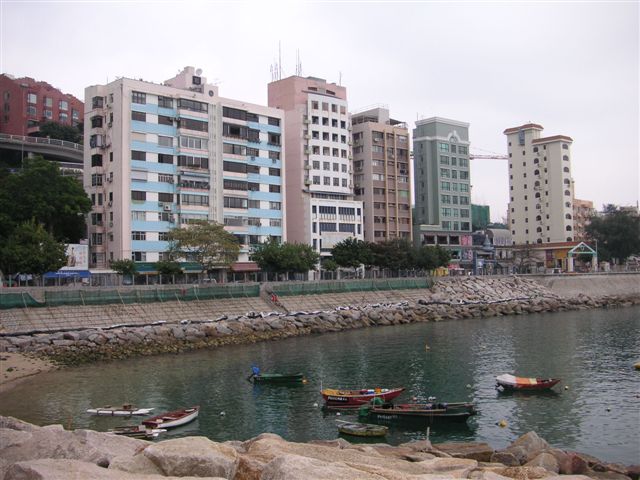 The Stanley waterfront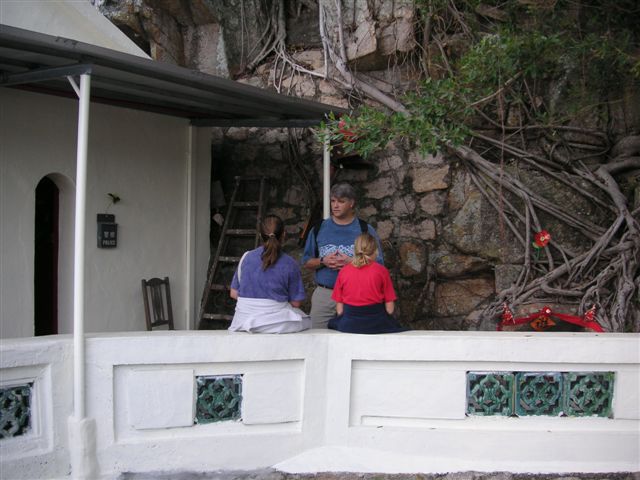 There was small temple nearby that we visited.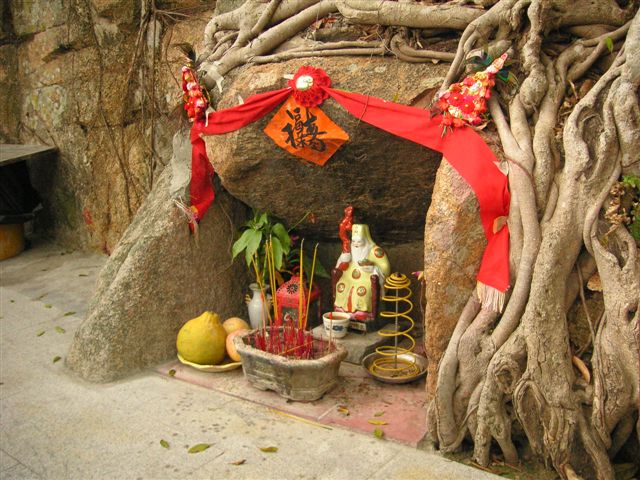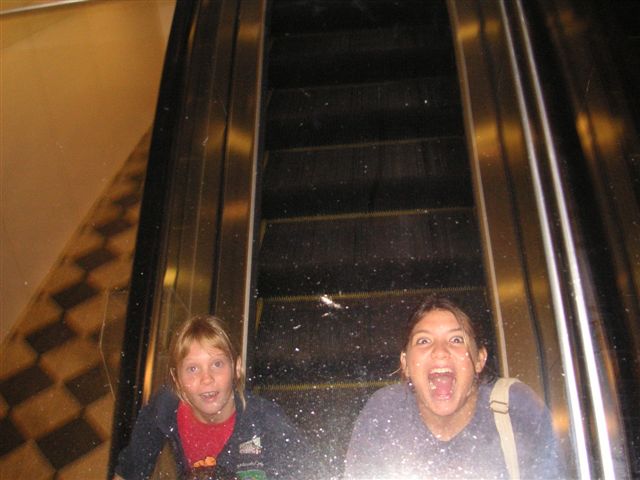 Getting crazy on the escalator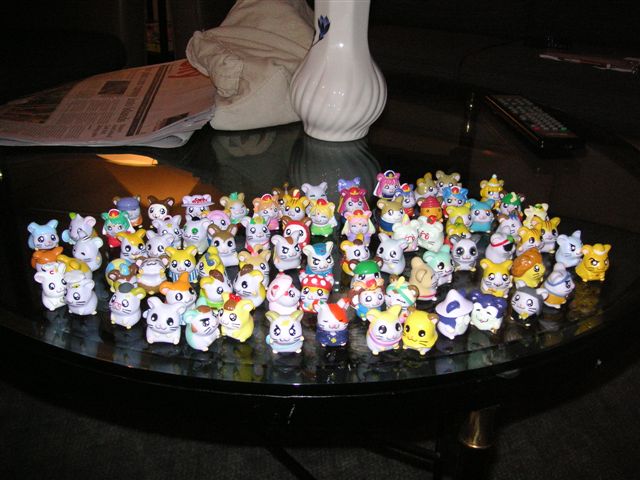 Katie had already bought several of these little hamster toys at a market in Kowloon, but in Stanley it was as if she hit the mother lode.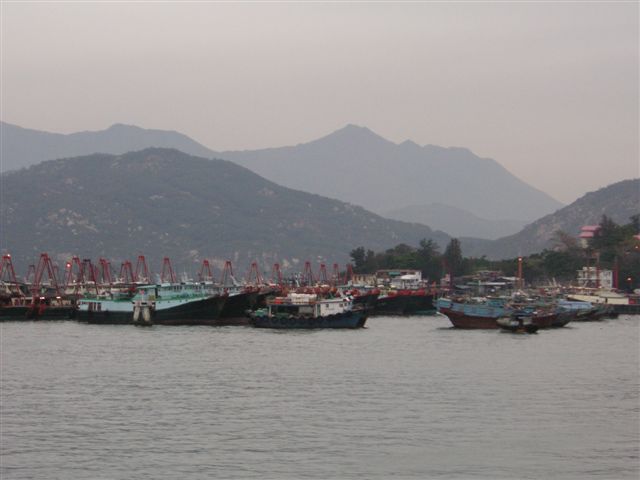 We visited Cheung Chau Island where Cheryl and Todd spent three weeks back in 1990 at the beginning of their time in Japan and Korea.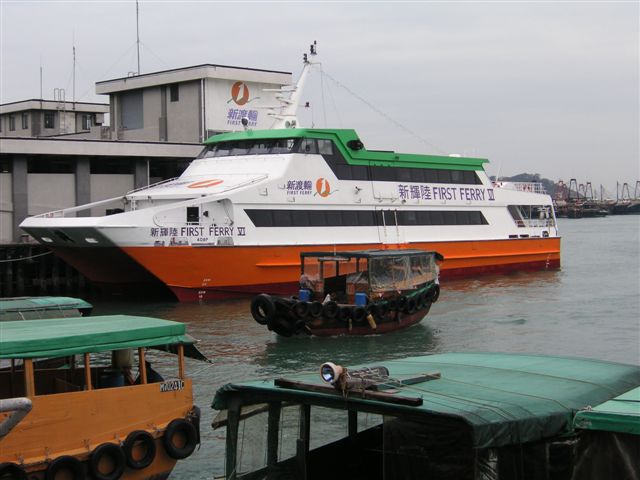 This is how we got to Cheung Chau (the big boat, not the little one) - it took just 30 minutes.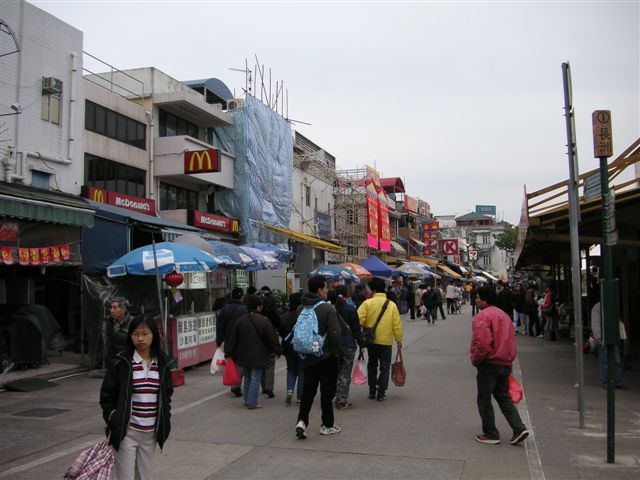 The main street next to Cheung Chau Harbour.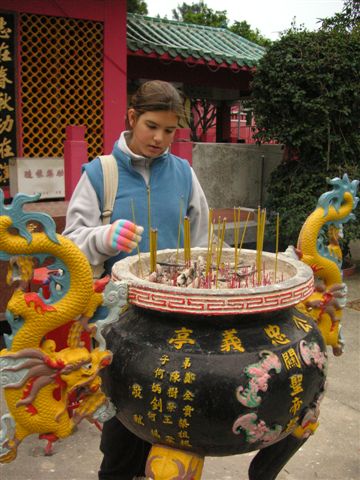 Buddhist temple on Cheung Chau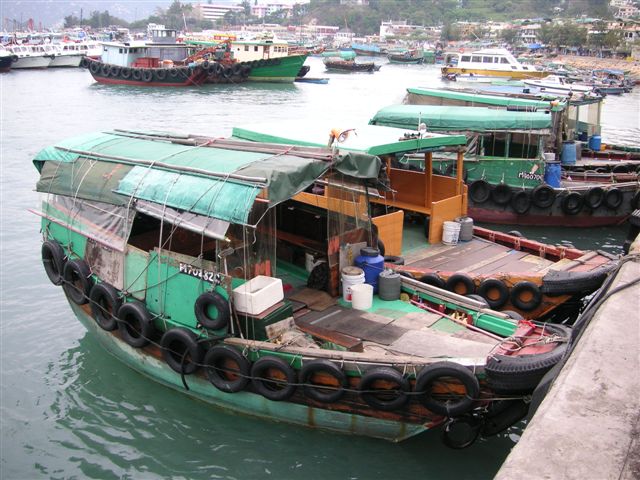 Cheung Chao water taxis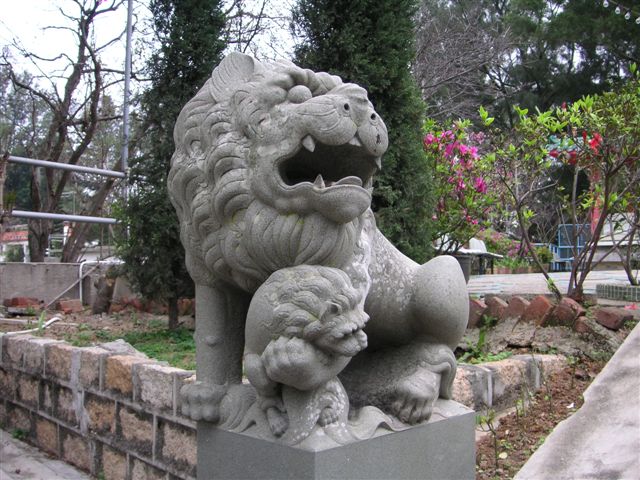 Statue at Cheung Chau temple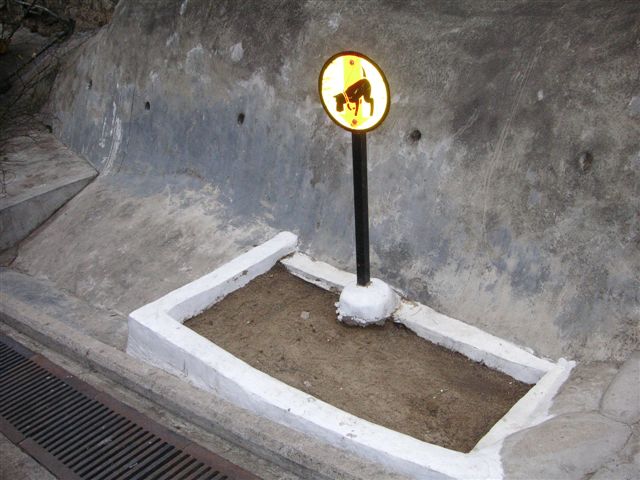 For dogs on their walk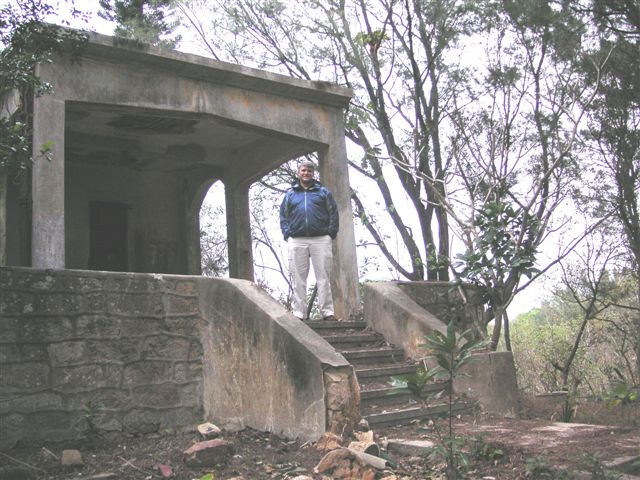 Our friend Michelle's old house on Cheung Chau - in disrepair.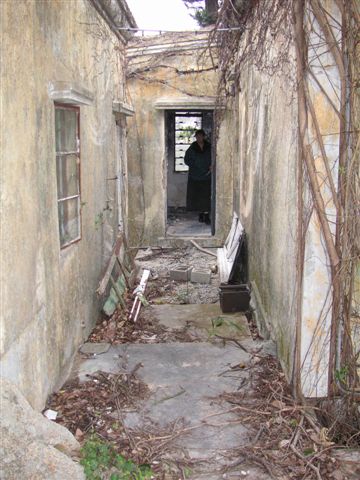 The back side of friend Michelle's old house.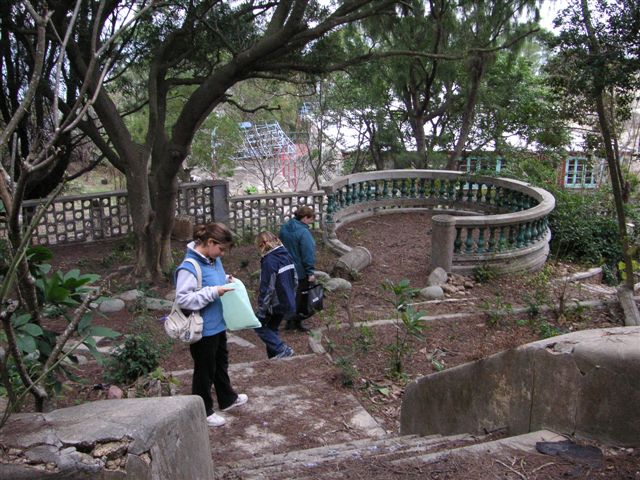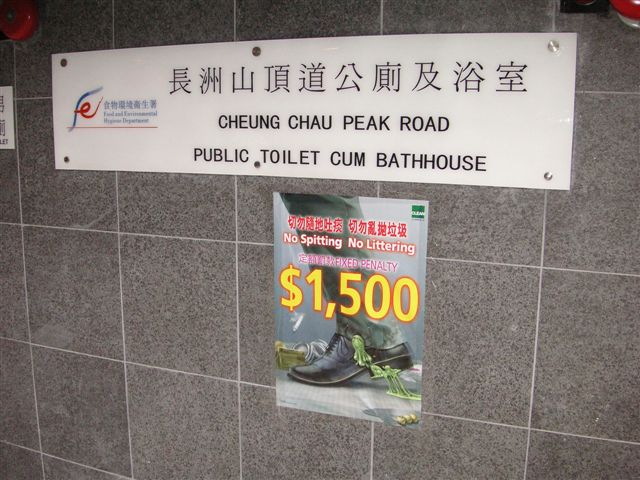 Fun with English.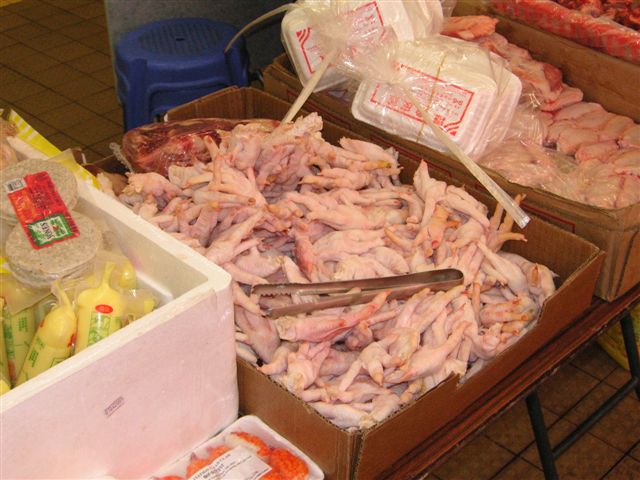 Fresh chicken feet!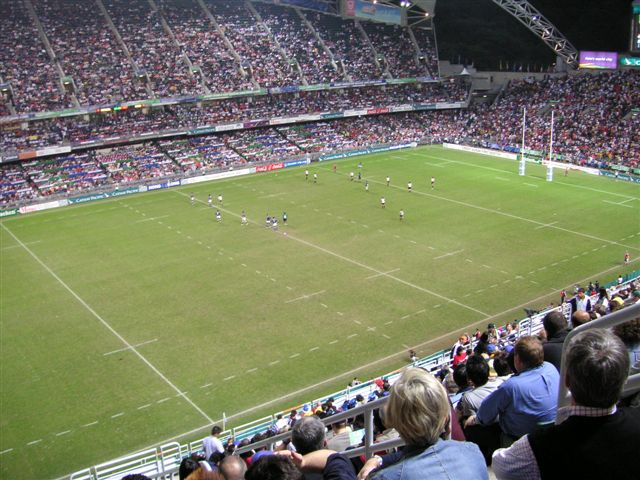 Rugby Sevens World Cup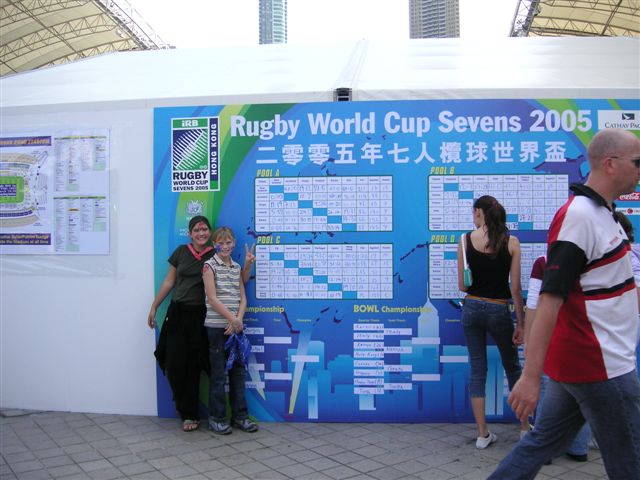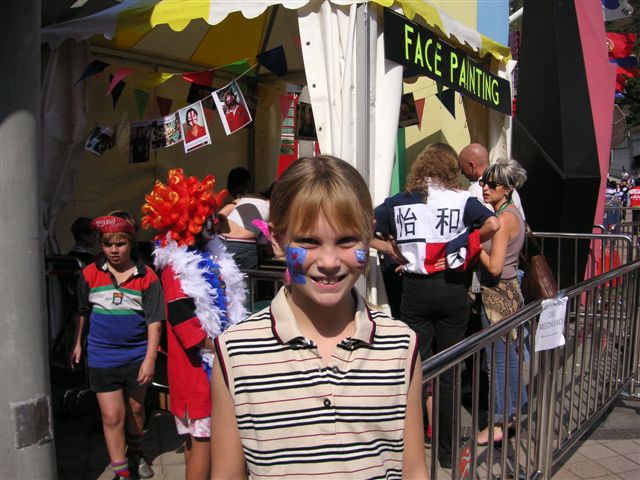 Face painting at the Rugby Sevens. We decided to root for the USA and Fiji.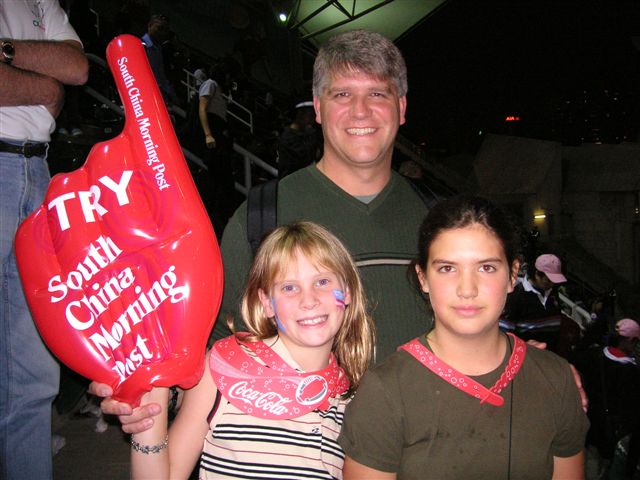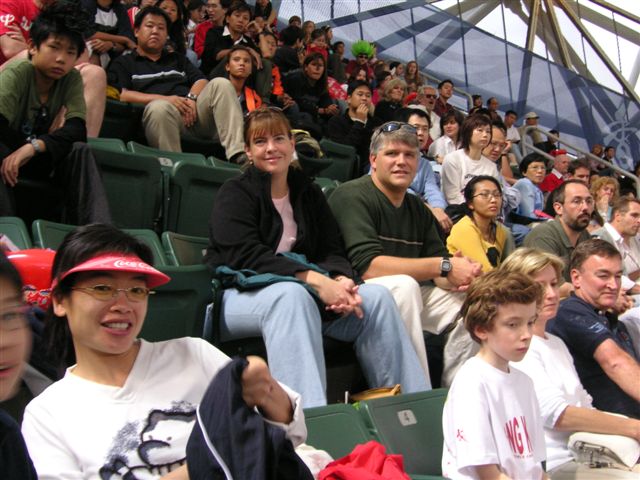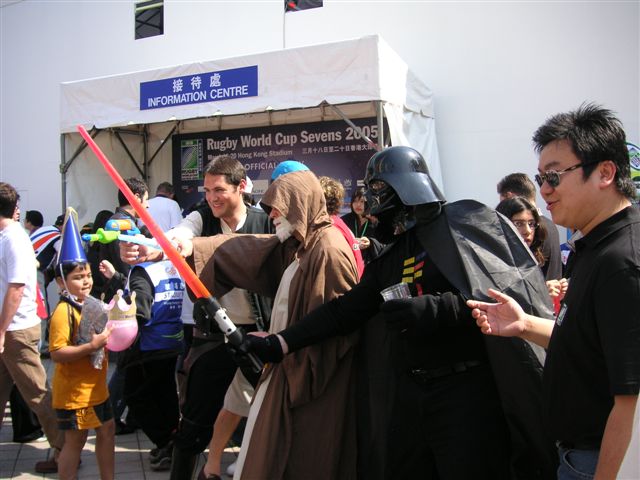 People got dressed up the rugby match.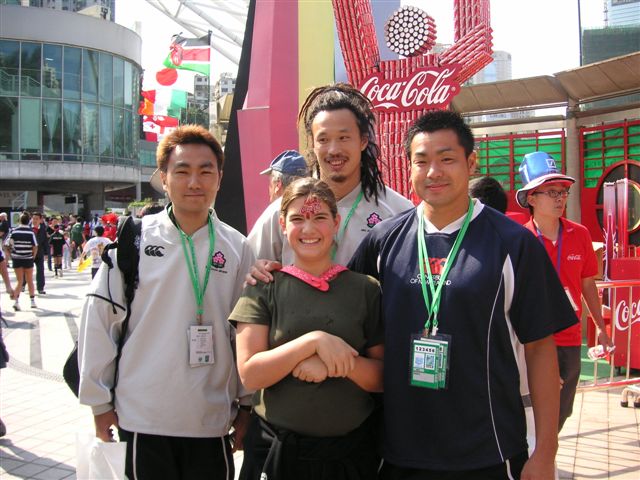 Members of the Japanese rugby team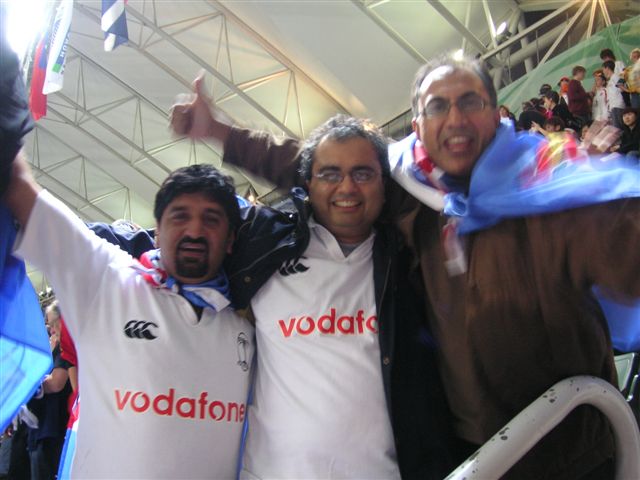 Fiji beat New Zealand in the final and these guys from Fiji were very happy.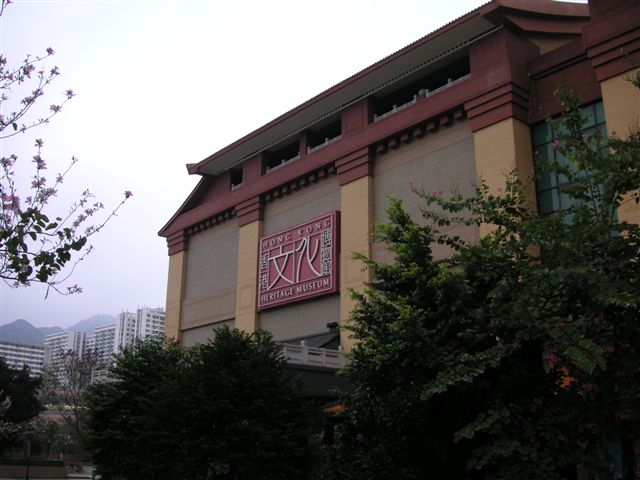 Hong Kong Heritage Museum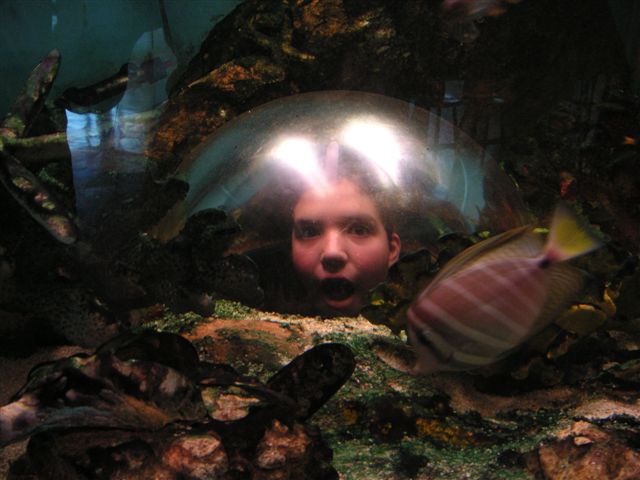 Aquarium with viewing bubble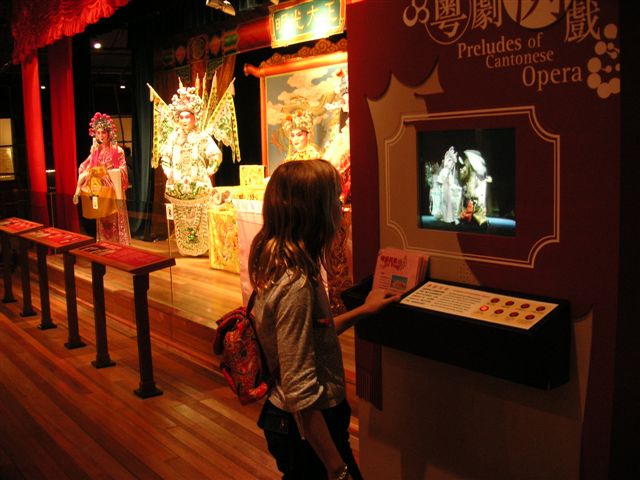 The Heritage Museum had a large section on the history of Cantonese Opera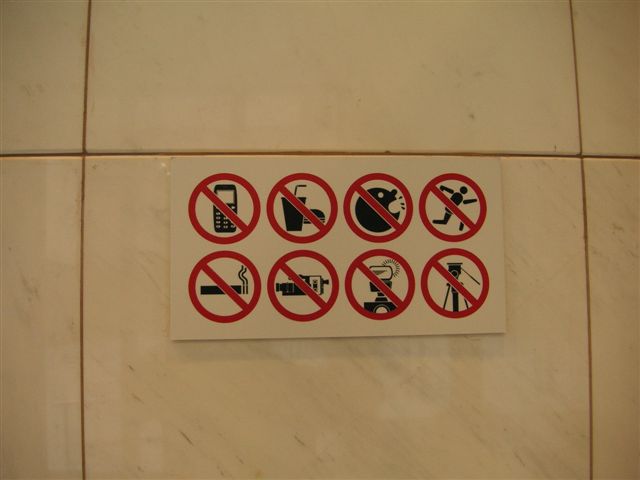 At the Heritage Museum: "No cell phones, no food or drink, no spitting, no running, no smoking, no video recording, no flash photography, no tripods."
Lunch at the museum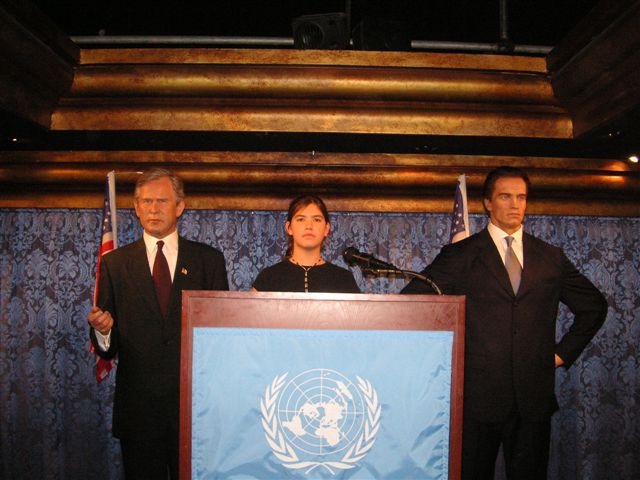 Madame Tussaud's Wax Museum on the Peak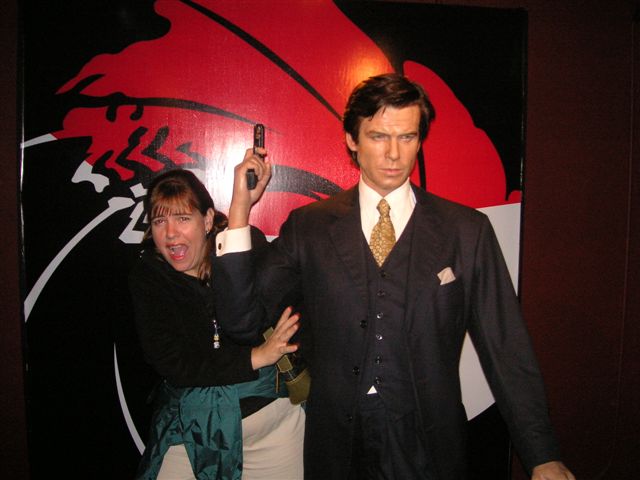 Cheryl getting crazy with Pierce Brosnan.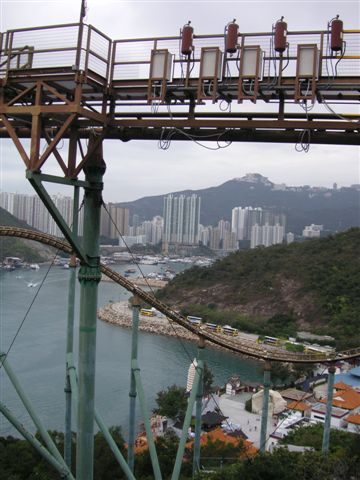 Ocean World amusement park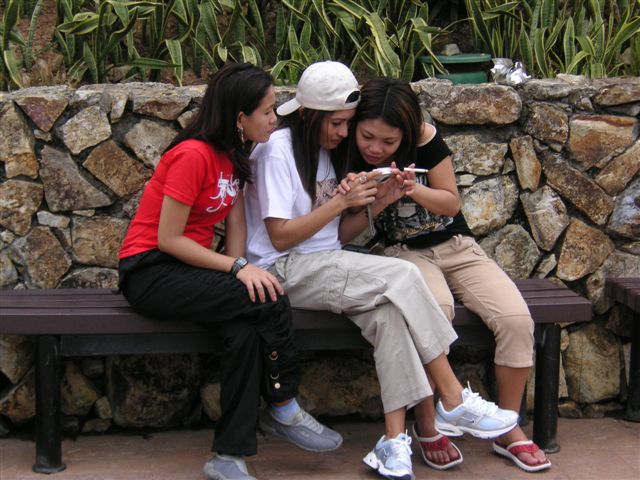 Local teenagers taking pictures with their cell phones and sending text messages.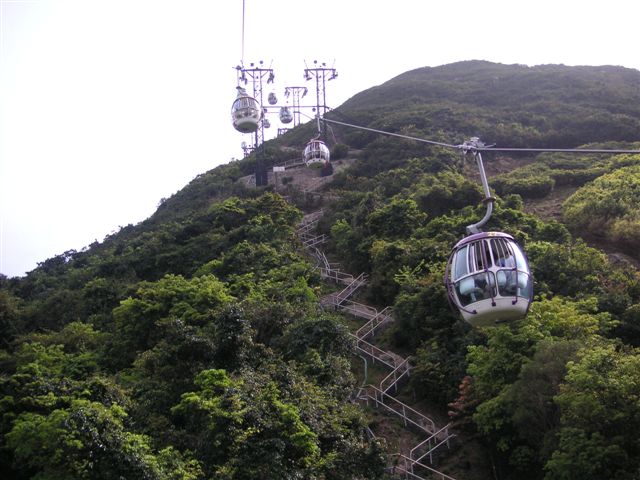 There was a gondola that took people from one side of the park to the other.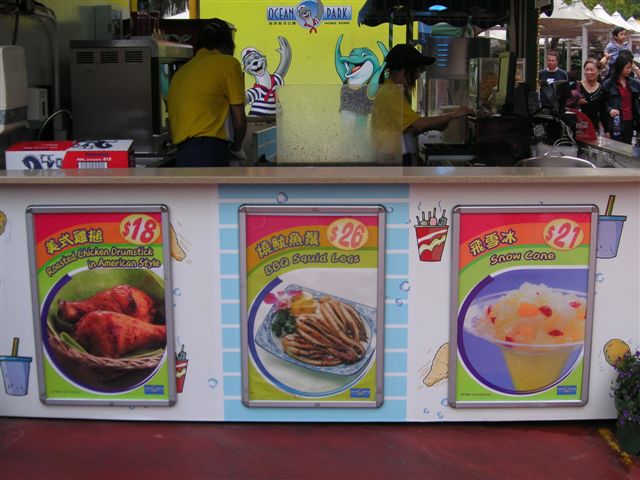 Some fine lunch choices: Roasted Chicken Drumstick or BBQ Squid Legs. Snow Cone with fruit for dessert.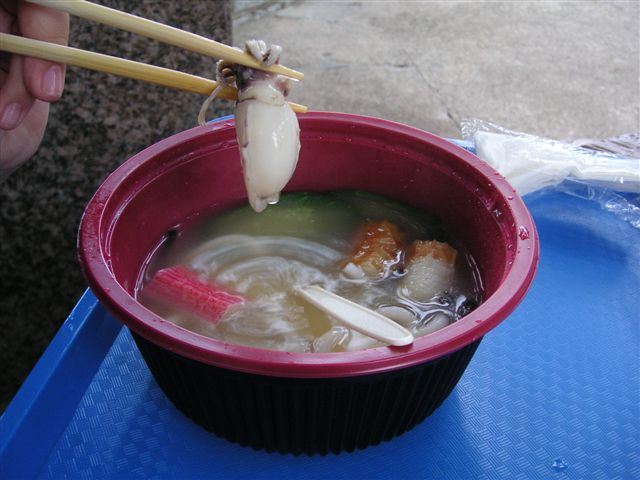 Lauren went for the 'Seafood Soup.' Yum!