Malaysia Pictures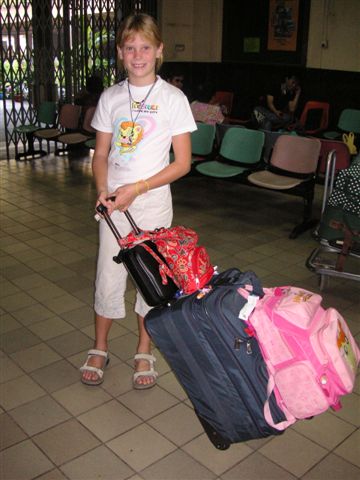 Katie with her luggage as we prepared to board the train for Malaysia.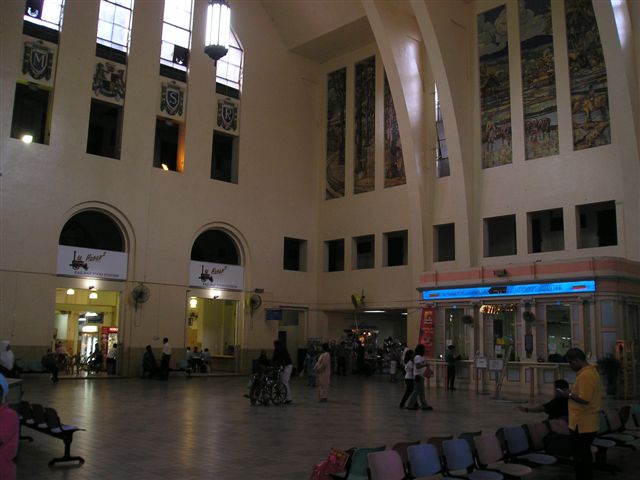 While Singapore is a modern, bustling city, we found the train station to be very old and run down. We learned from a taxi driver that the Malaysian government actually owns this land and this fact has been a source of conflict between between the two countries. He said the Singapore government wants to take control of the land so they can build a new train station, but the Malaysians have refused to give it up based on some treaty or agreement signed years ago when Singapore was under British rule. As if the spite the Malaysians, Singapore had not extend their modern subway to the station and we had to take a taxi.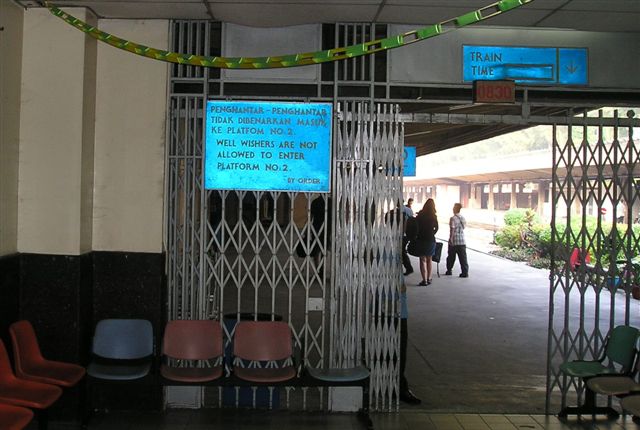 This is the entrance to the loading platform at the Singapore Railway Station. We went through Malaysian immigrations 100 feet after passing through this gate and went through Singapore immigrations 15 miles up the tracks before leaving the country - that was a switch.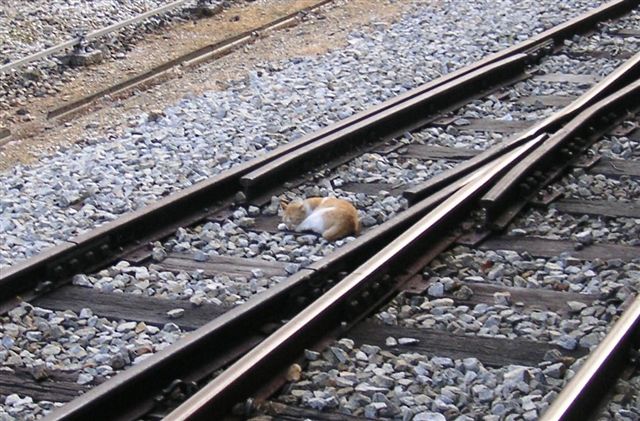 This cat seems blissfully unaware that he is sleeping on a train track.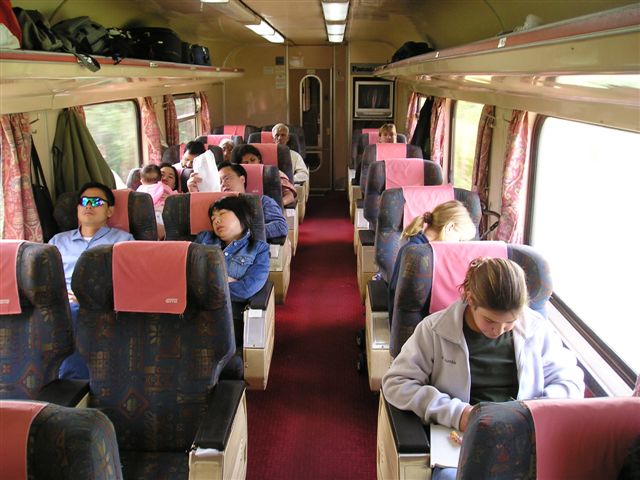 Here we are on our comfortable 6-hour trip from Singapore to Kuala Lumpur, Malaysia.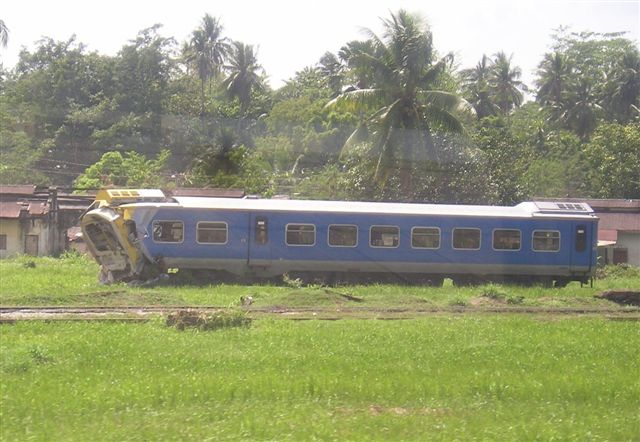 We passed this wreckage shortly after entering Malaysia. It did not give us a lot of confidence about the safety of the Malaysian railway system. Having said this, I have read and heard only good things about their safety record.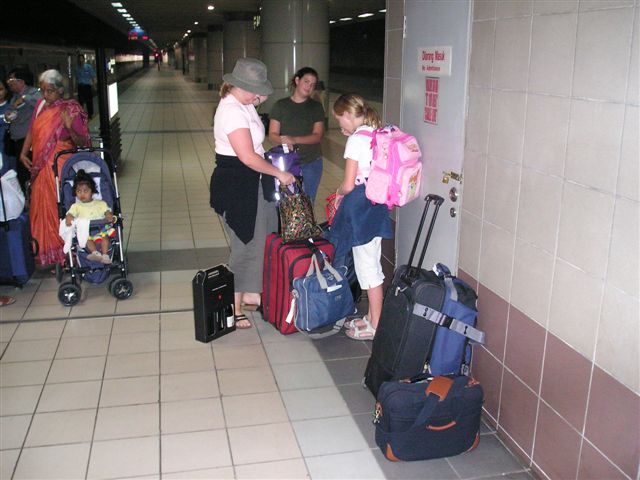 Kuala Lumpur has a clean, modern train station.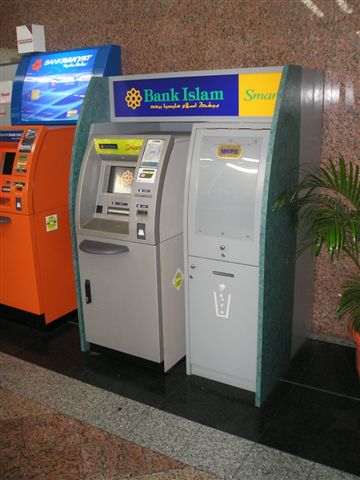 We learned that Malaysia has established Islam as the official religion.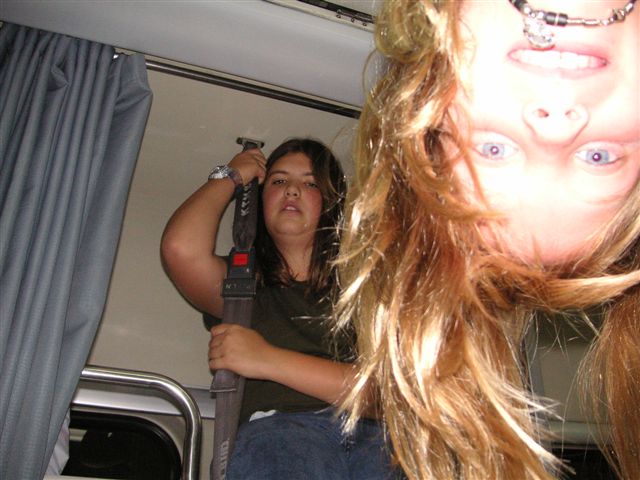 At Kuala Lumpur we boarded an overnight train for Butterworth in northern Malaysia. All they had available were 2nd class bunks in an open compartment. So we said "Sure, why not. It's an adventure."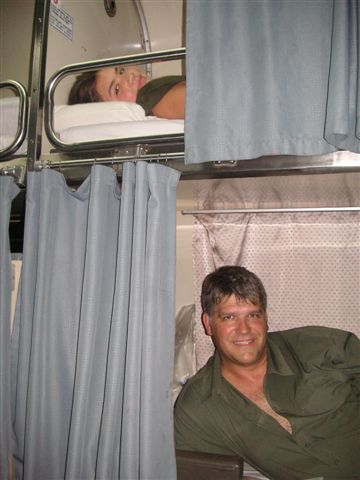 We did not sleep well on the train, mostly because of concerns about personal safety and security in the open compartment. Also, the air conditioning on the train did not work well and we were hot. At 6am in Butterworth, Malaysia, a tired adult female member of our group made it known that she was not eager to endure another 2nd class overnight leg to Bangkok. So, we consulted our guidebook and learned that there was a resort island nearby called Penang.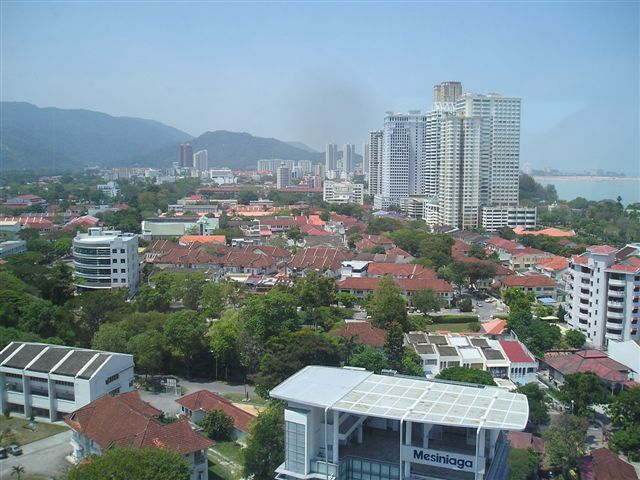 This is the view from our hotel room in Georgetown on Penang Island. The British made this a trading center in the late 1700s and many colonial structures exist today. We also learned that 50 people, all children, died here in the tsunami on December 26, 2004.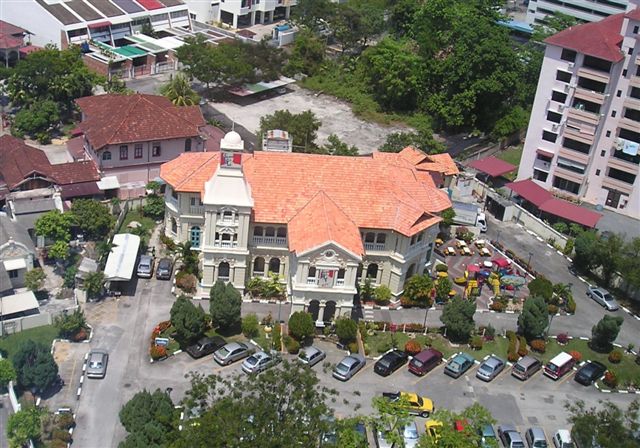 This beautiful old building is a KFC, across the street from our hotel.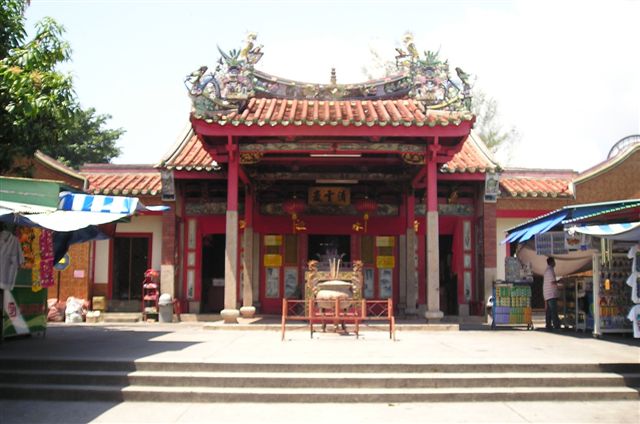 After catching up on our sleep on Penang, we hired a guide who took us around to some of the sights. This is the entrance to the Snake Temple on the south part of the island. Apparently, after the Buddhist temple was built in 1850, pit vipers and tree snakes from the surrounding jungle moved in. Supposedly, no one has been bitten because the burning incense renders them harmless.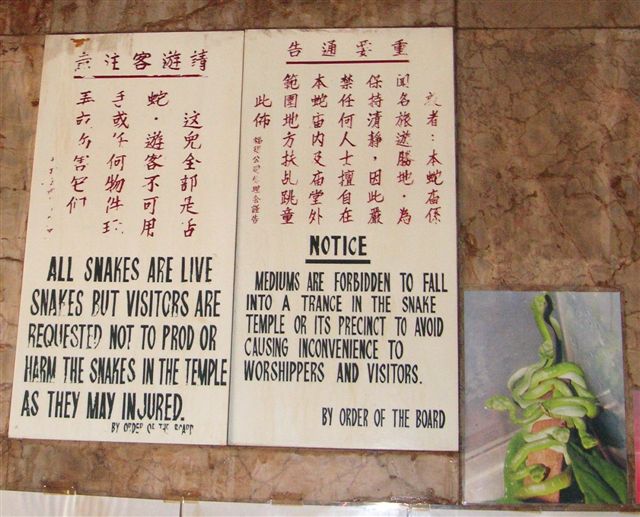 We had to take a picture of this sign inside the door. Unfortunately, there weren't many snakes at the temple - less than ten that we could count. So, in that respect, our visit was a bit disappointing.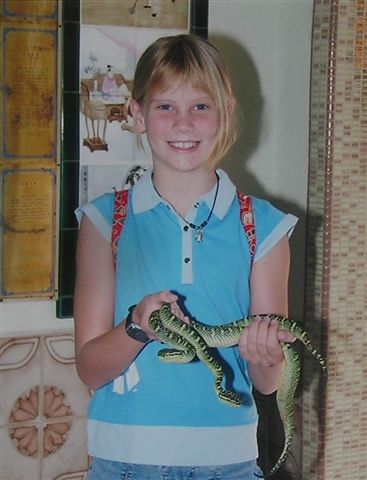 There was a fellow who offered to take a picture with a couple pit vipers. We were all a little nervous, but he assured us they would not bite and Katie was the brave one.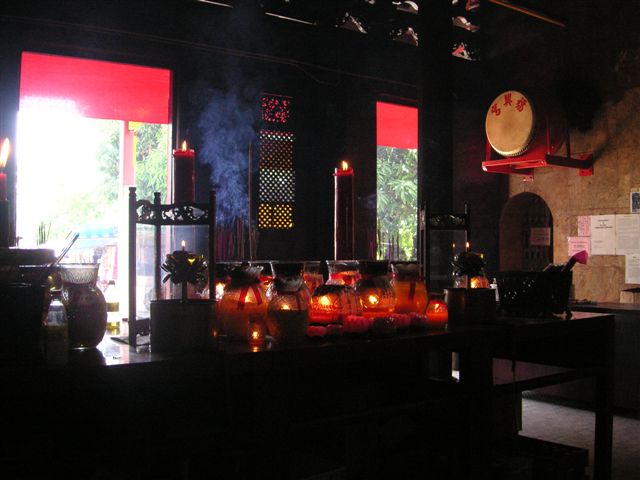 This is inside the temple looking back toward the entrance.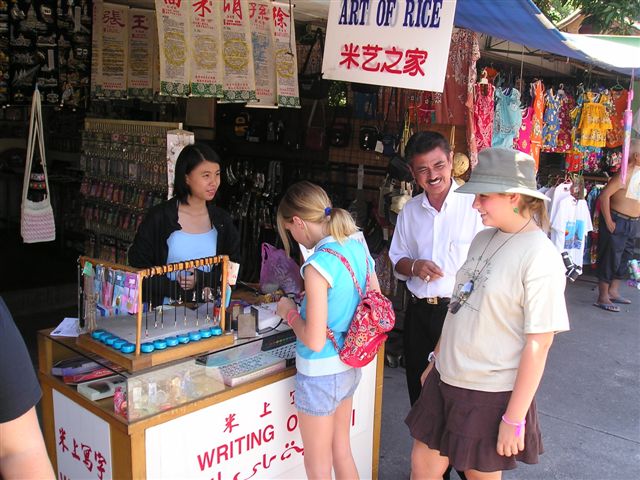 Lauren and Katie outside the Snake Temple with our guide.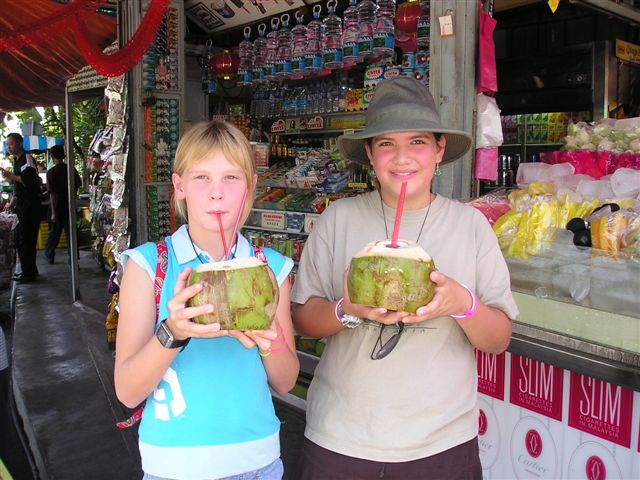 The girls cool down with some coconut drinks.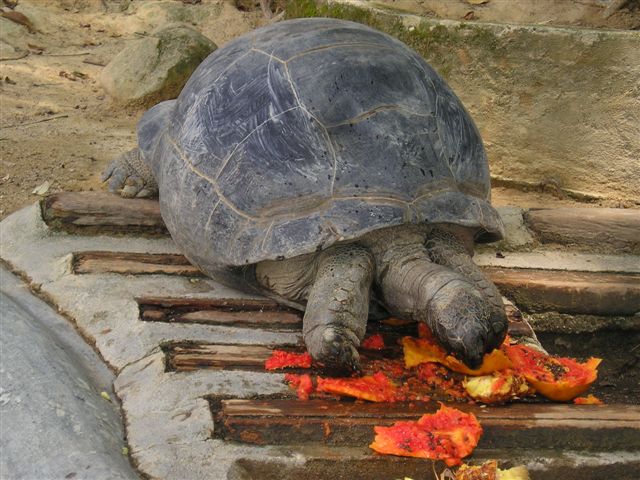 After the Snake Temple, we headed over to a plant and reptile garden called Bukit Jambul. They had a lot of snakes on display and several huge turtles that, according to the sign, were both over 150 years old. Here is one munching on papaya.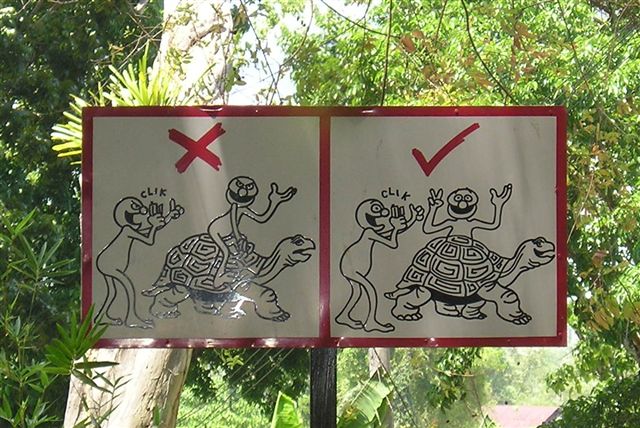 Here was a sign at the turtle enclosure. It was okay to go in there with them, but no riding the turtles.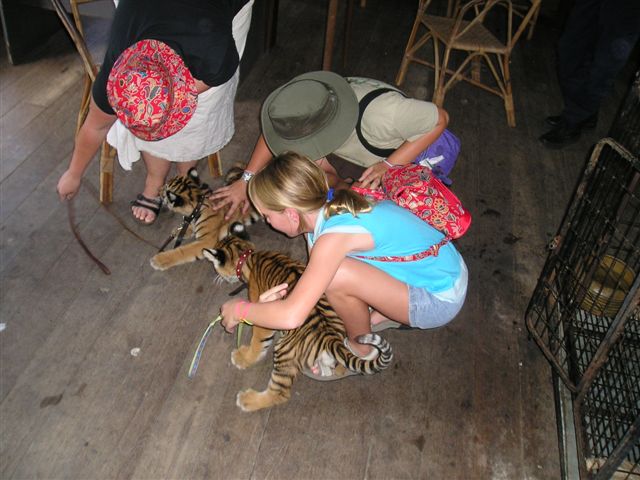 The highlight of the day was two Bengal tiger cubs they pulled out for Lauren and Katie to play with. Four months old and acting just like kittens - the girls were beside themselves.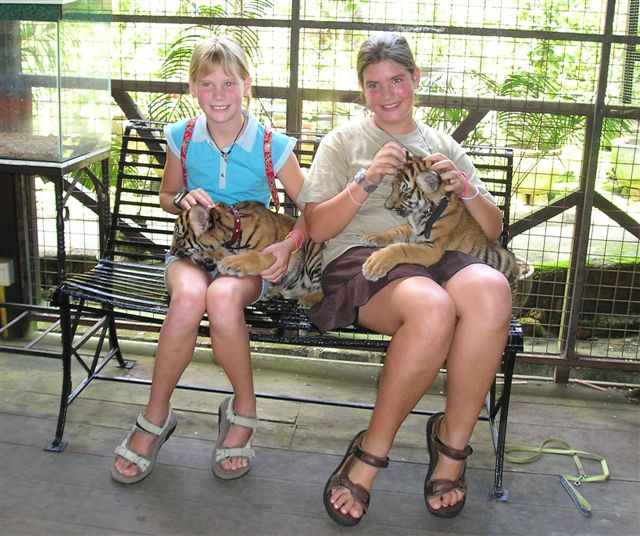 Katie and Lauren with the Bengal tiger cubs.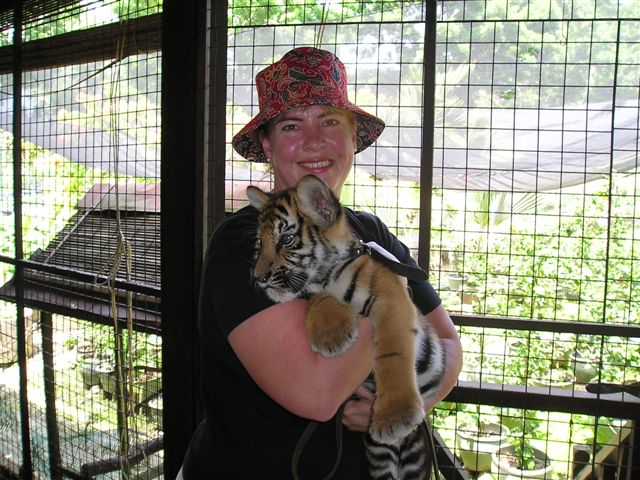 It was a hot day and Cheryl worked up a sweat chasing tiger cubs around.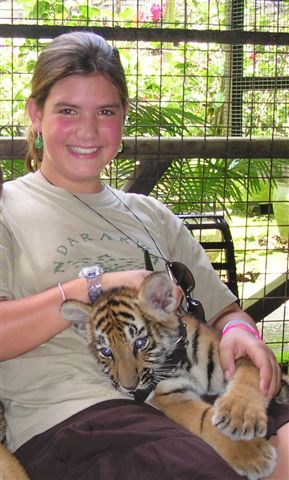 Lauren with her new friend.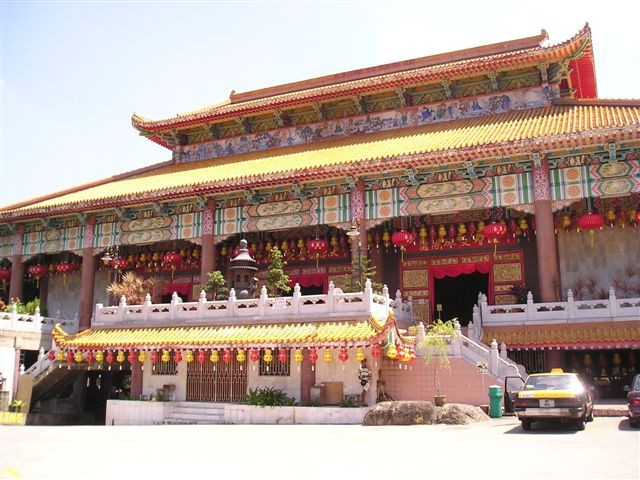 We visited Kek Lok Si Buddhist Temple, one of the largest in Southeast Asia.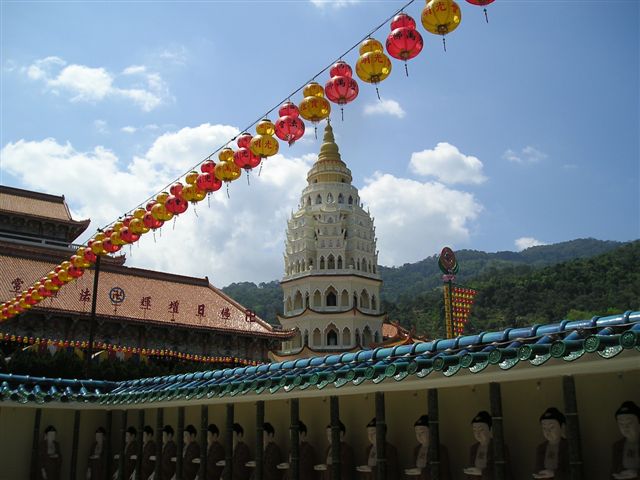 The temple is dominated by the seven-tier Ban Po Thar pagoda which stands about 90 feet tall. The pagoda combines Chinese, Thai and Burmese architecture and craftsmanship. The octagonal base is Chinese, the middle tiers are Thai and the spiral dome is Burmese.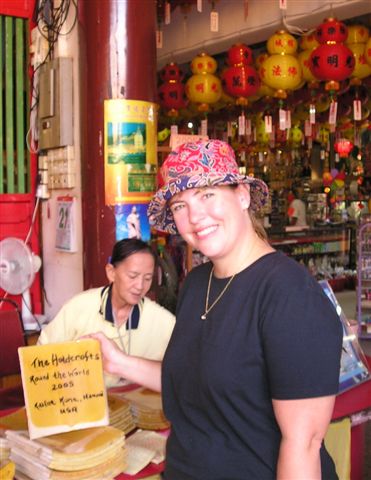 To raise money for construction of a new building at the temple, in exchange for a contribution, they let people put their name on tiles which will be part of the new roof. Cheryl loved this fundraising idea and did not hesitate to step up. On our tile she wrote: "The Holdcrofts - Round the World - 2005 - Kailua Kona, Hawaii - USA"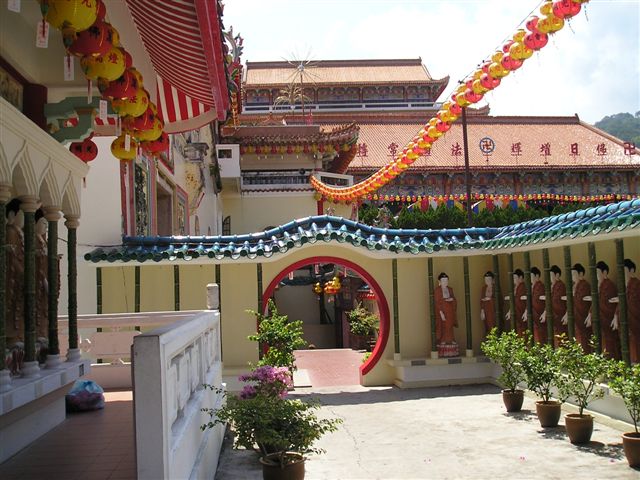 Kek Lok Si Temple has multiple building and courtyards. It was clean and well maintained. Our guide told us the Buddha figures on the right, which surround several of the courtyards, are meant to show that Buddha is always watching you.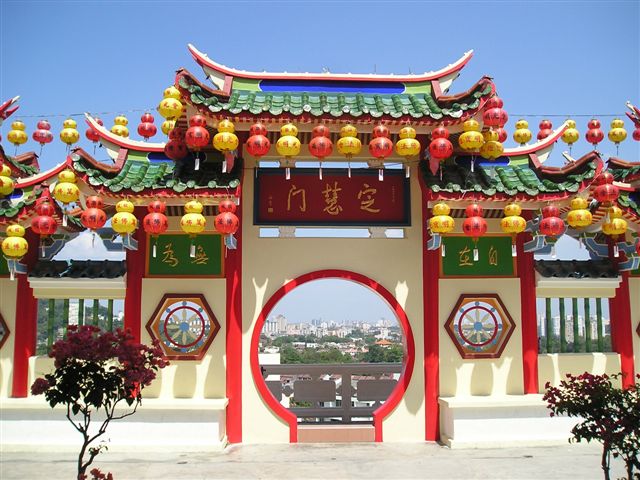 The temple sits on a hill looking toward Georgetown. Our hotel is among the builds you can see through this archway.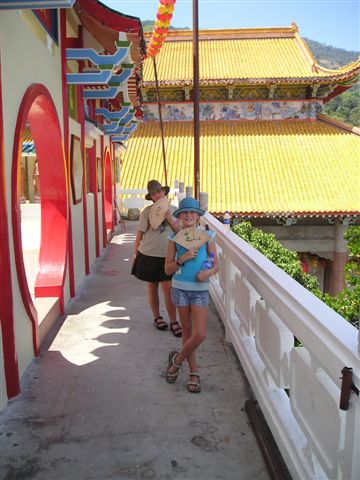 Lauren and Katie.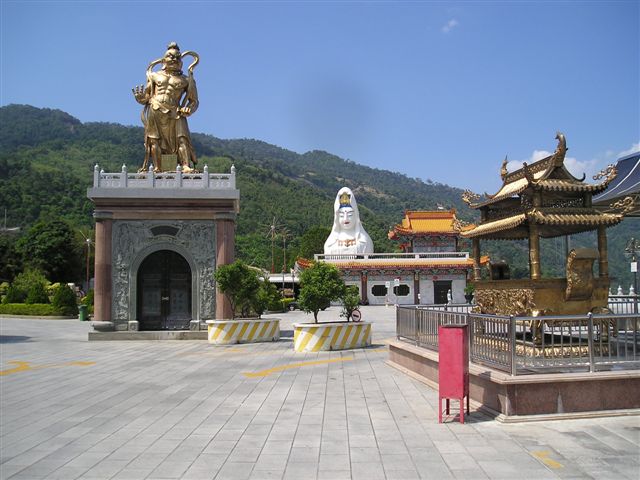 One of the many Buddha images at Kek Lok Si (center). The big guy on the left is a temple guardian - there were two of them.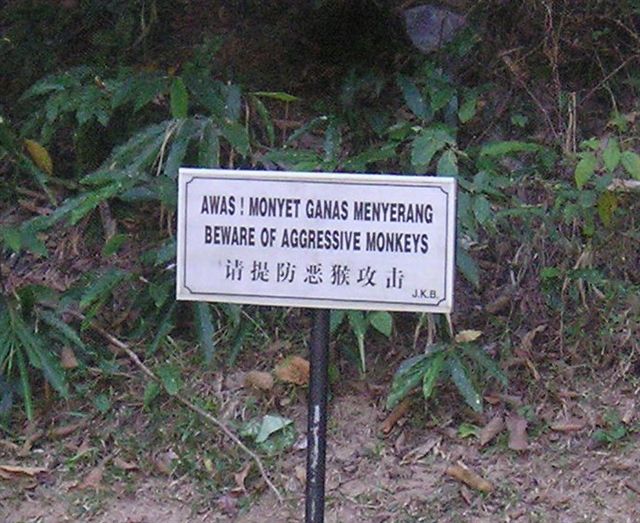 After the temple, we went over to the botanical gardens which are known for the wild monkeys. On the suggestion of our guide, we brought along some bananas which probably was not a good idea.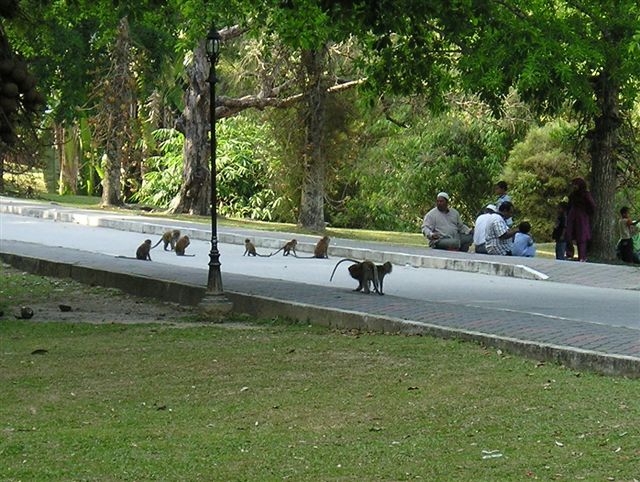 There were plenty of monkeys around and when we pulled out the food they got aggressive. One of them bared his teeth and rushed at Todd when he wouldn't give up his banana in timely manner. The family in the picture above was having a picnic and had to use a stick to drive the monkeys away when they got too close to the food.