New Zealand Pictures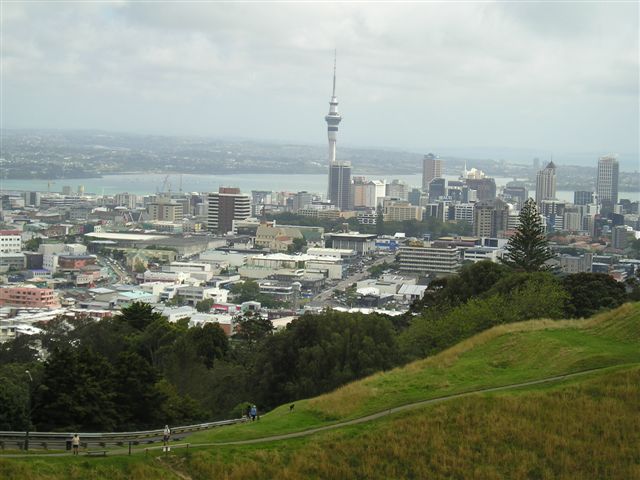 This is downtown Auckland from Mt. Eden with the Skytower featured prominently.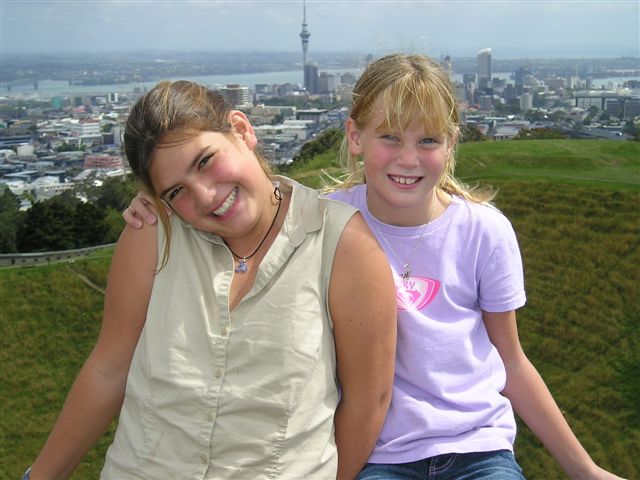 Lauren and Katie on Mt. Eden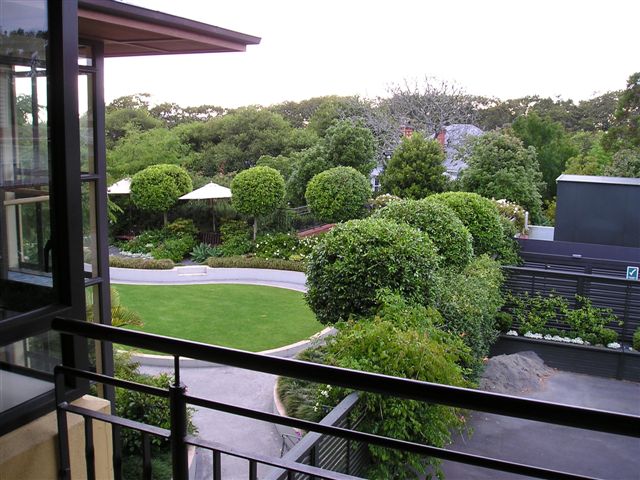 This was the view from our apartment at the Domain Lodge in Auckland.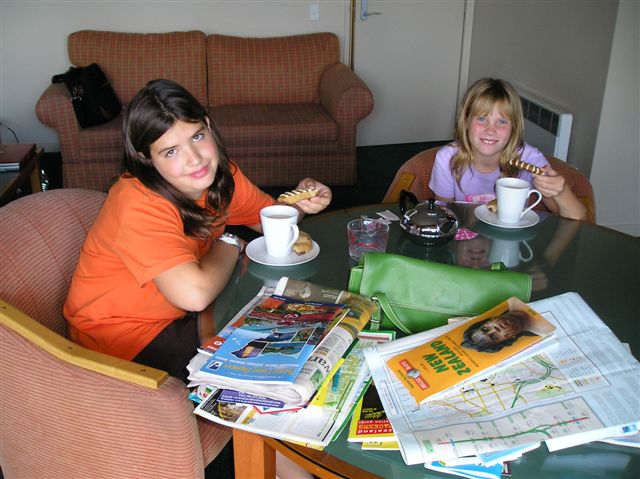 Lauren and Katie having tea and cookies with a pile of maps and guides on the table.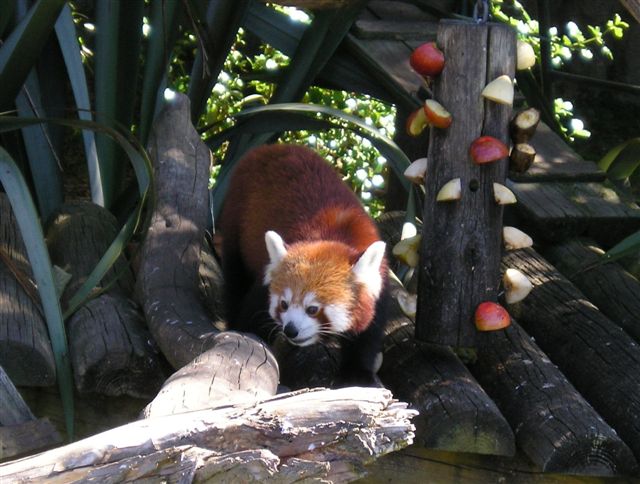 We visited the Auckland zoo and they had a Red Panda, which is a cross between a panda, a fox, and several other furry creatures.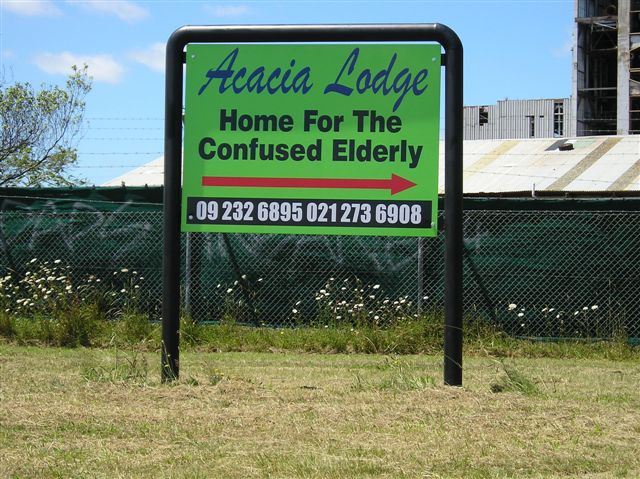 Cheryl and Todd took some time to research a place to live after the children leave home.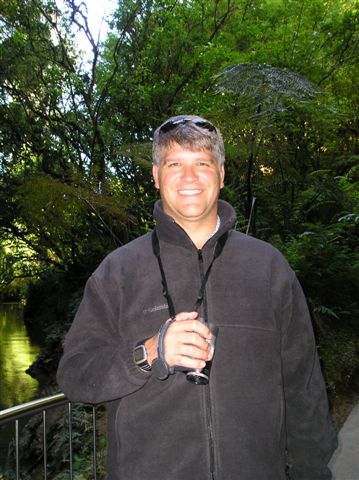 We visited the "World Famous" Glow Worm caves of Waitomo. It was quite interesting - we rode a boat through an underground river. They would not let us take pictures, but Cheryl got this one of Todd at the end of the tour.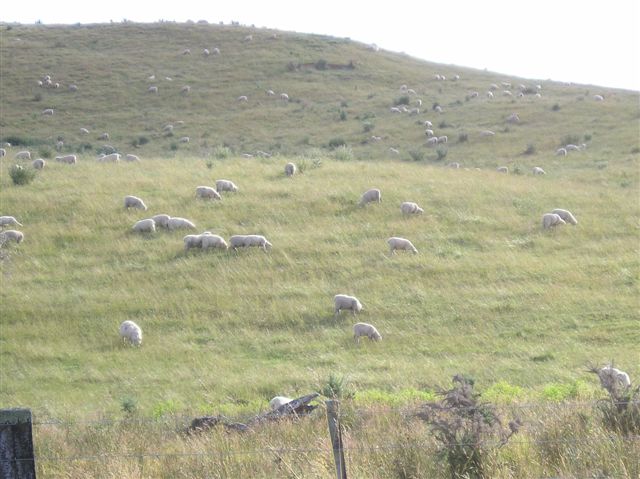 The rumors are true, there are a lot of sheep in New Zealand.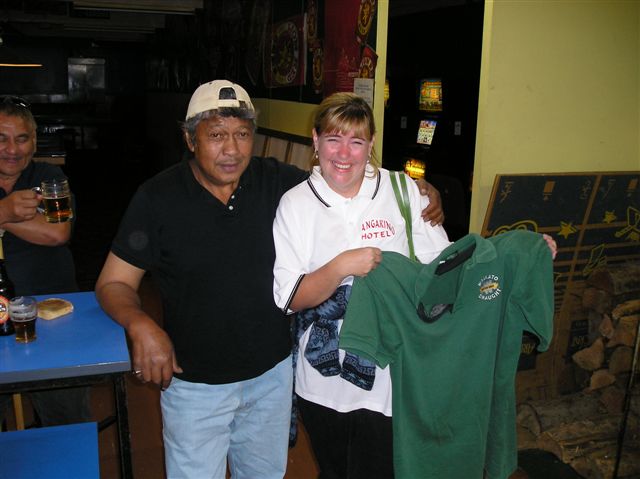 We stayed in small town called Mangakino on the way to Rotoura and made friends at the local bar (the children were allowed). We had a great time. Here is Cheryl after she traded shirts with a gentleman.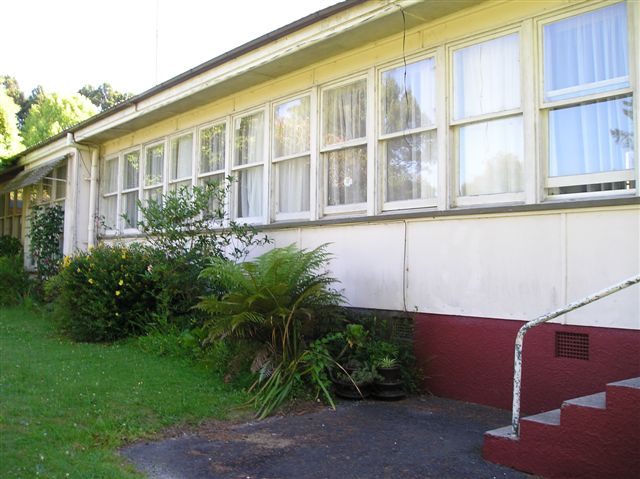 Our humble lodging in Mangakino was once a hospital.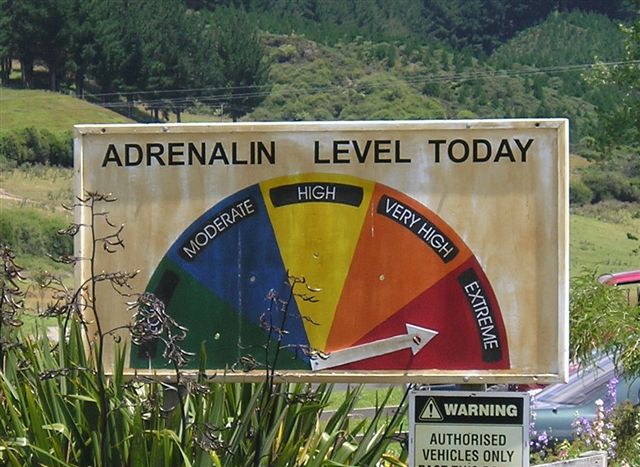 In the resort area of Rotorua we decided that it was time to go bungee jumping. This sign at the facility is designed to look like those indicating the forest fire danger.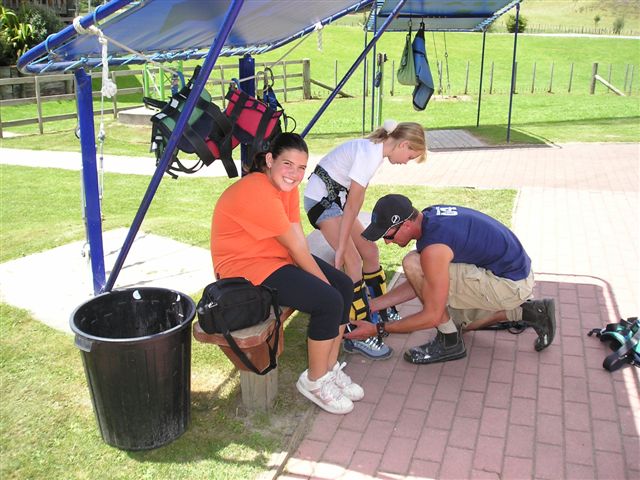 Katie volunteered to go bungee jumping first. Here she is getting harnessed up for the plunge.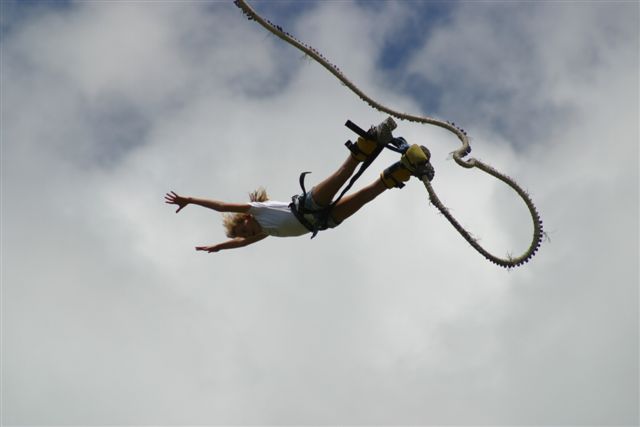 Katie getting a good bounce.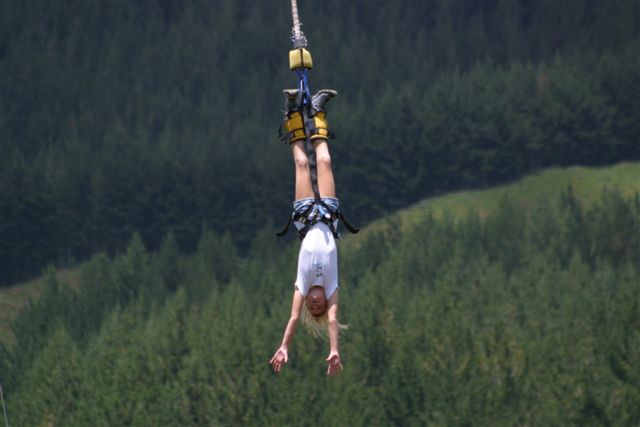 Katie just hanging out after her jump.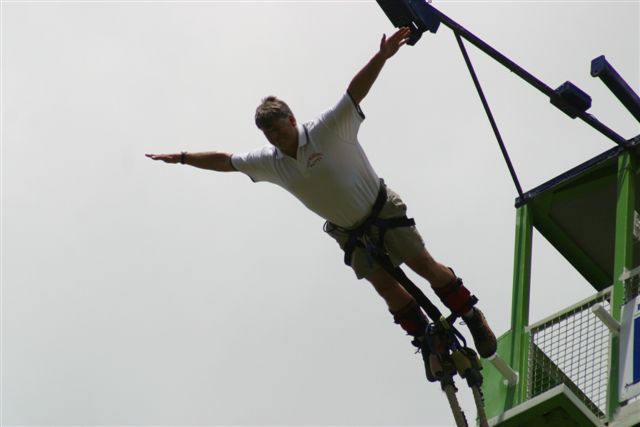 Todd taking his turn on the bungee.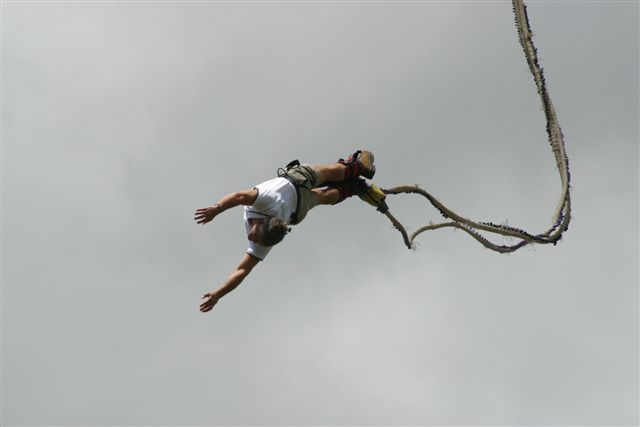 Todd got a good bounce too. Notice they rigged him up with two cords instead of one (since he weighed 110 Kilograms).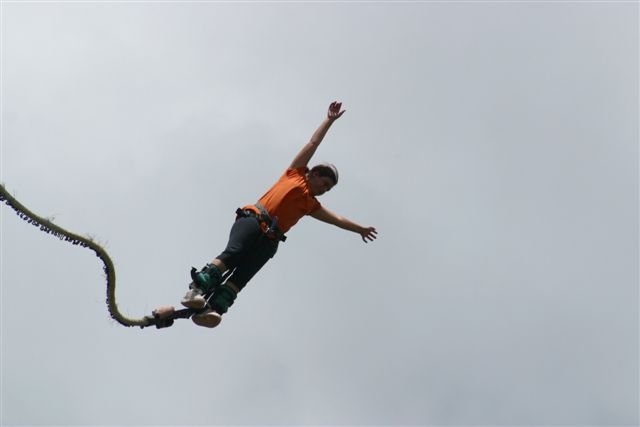 Lauren went last so she likely had the biggest adrenaline rush since she had to wait for Katie and Todd.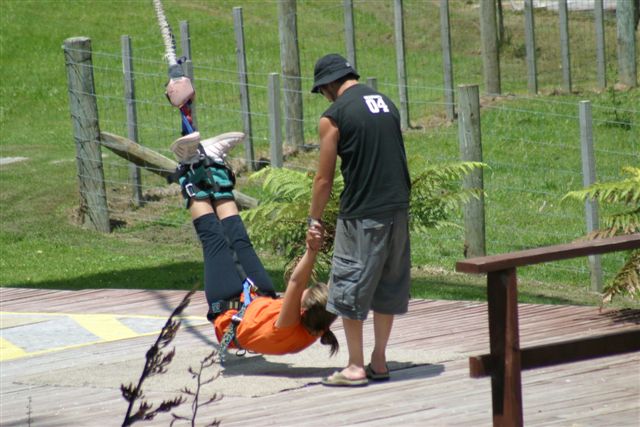 Here is Lauren being lowered after her jump.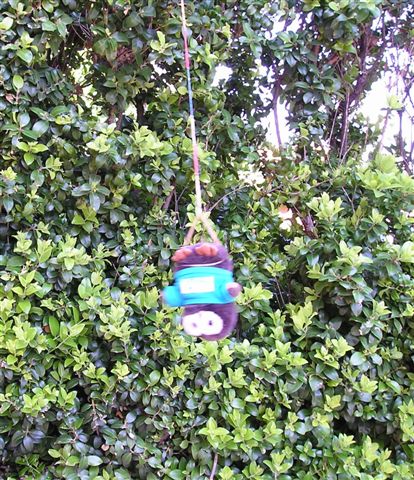 Since Pueo didn't meet the minimum weight for bungee jumping, we rigged him up ourselves and let him have a go. A typical bungee cord has 40 strands of rubber, but Pueo only needed two.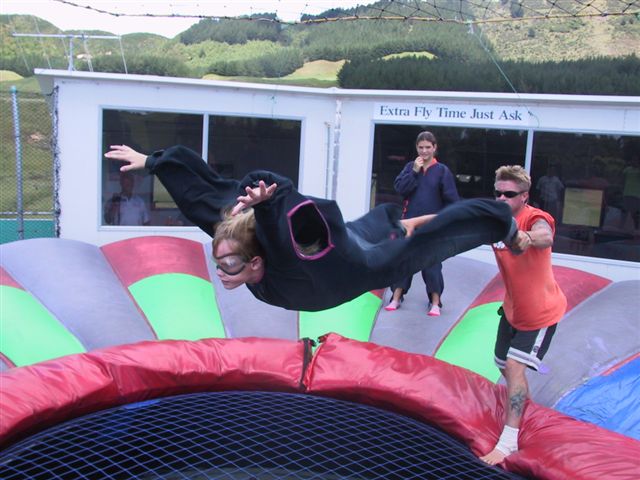 As if bungee jumping wasn't enough, the girls tried something called Freefall Extreme which is like skydiving. Here is Katie...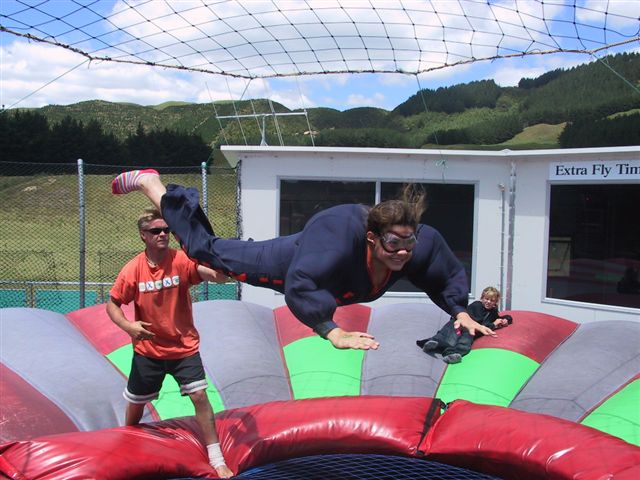 ...and Lauren.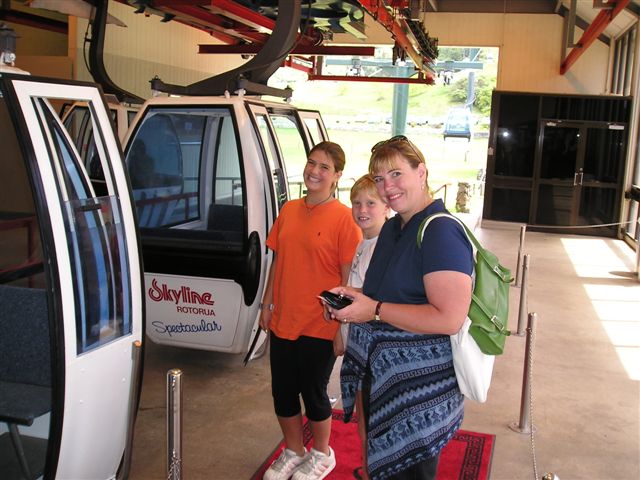 We heard that views of Rotorua were great from nearby Mt. Ngongotaha, so decided to try out the gondola.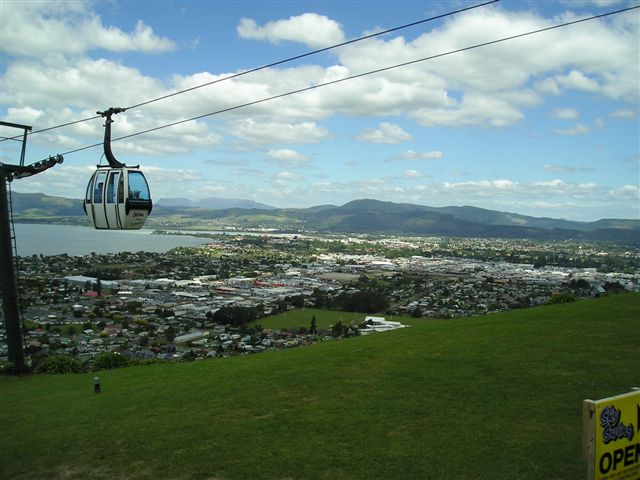 Rotorua city and lake.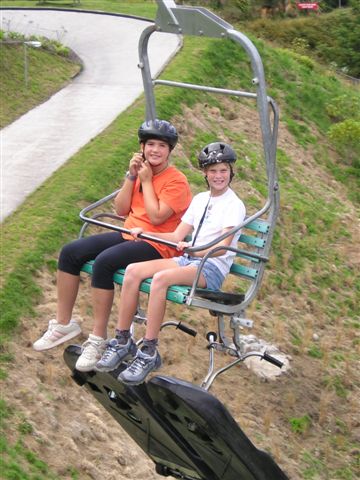 There was a sort of luge course with wheeled sleds and concrete track that looked like fun for the girls. Cheryl and Todd took the opportunity to sit and have a glass of New Zealand wine.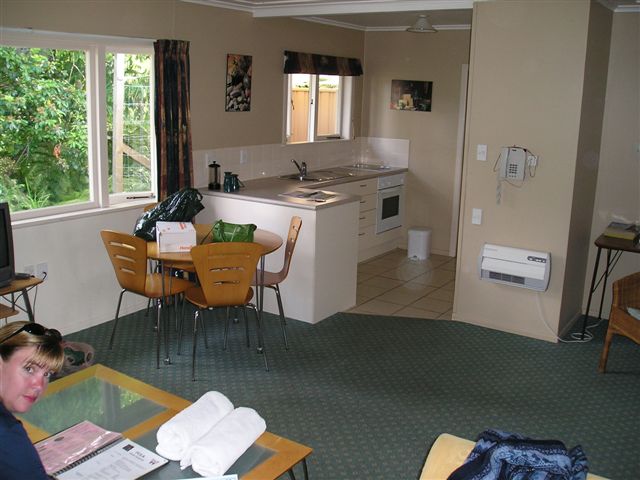 This was our hotel room in Rotorua.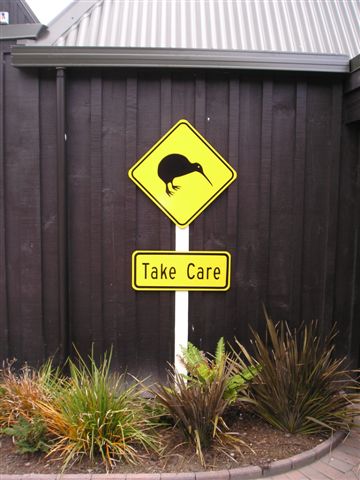 The next morning we visited a Kiwi bird sanctuary called Kiwi Encounter.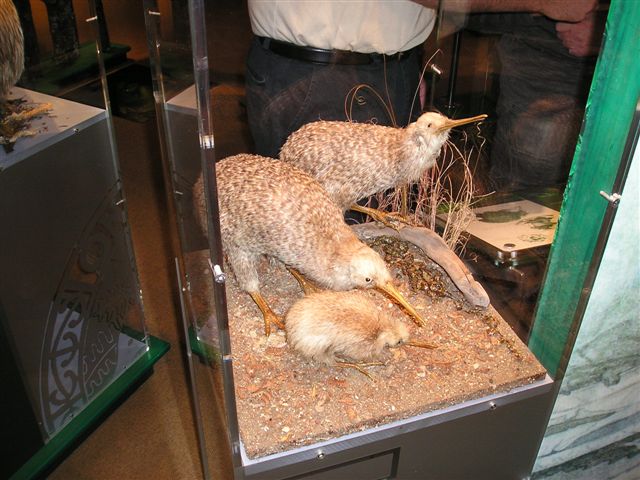 We learned that Kiwi birds are nocturnal and an endangered species.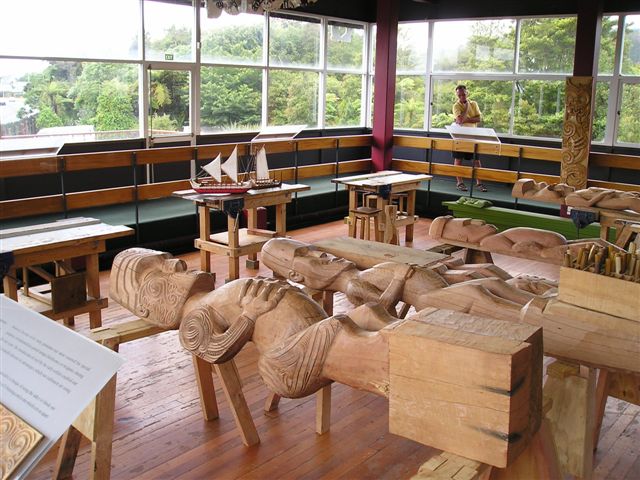 We visited a thermal reserve and Maori cultural area called Te Whakarewarewa (also called Whaka). It is run by the NZ Maori Arts & Crafts Institute.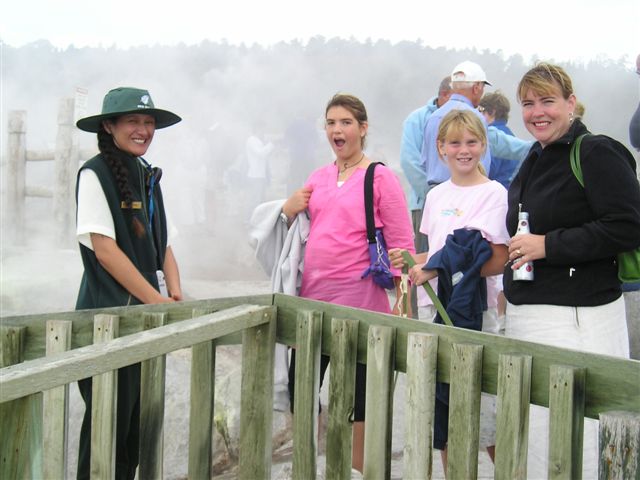 Here are Lauren, Katie & Cheryl with our very perky tour guide by one of the geysers at Whaka.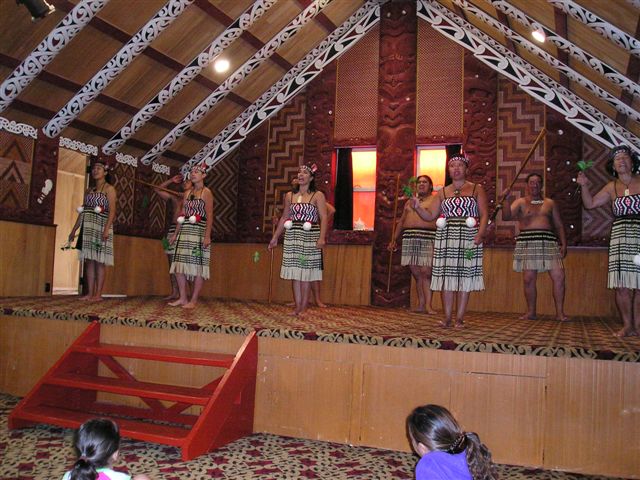 We watched a Maori dance performance.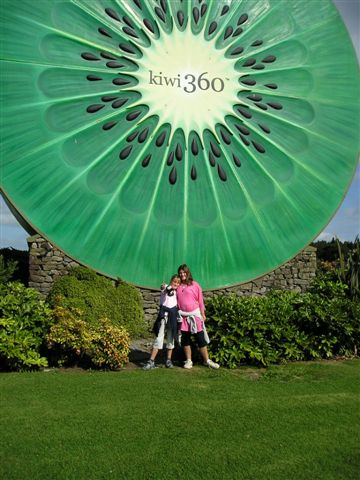 After Rotorua we drove toward the Pacific coast and found ourselves in Kiwi (the fruit) country. We decided to stop at a farm and learn about this famous little fruit.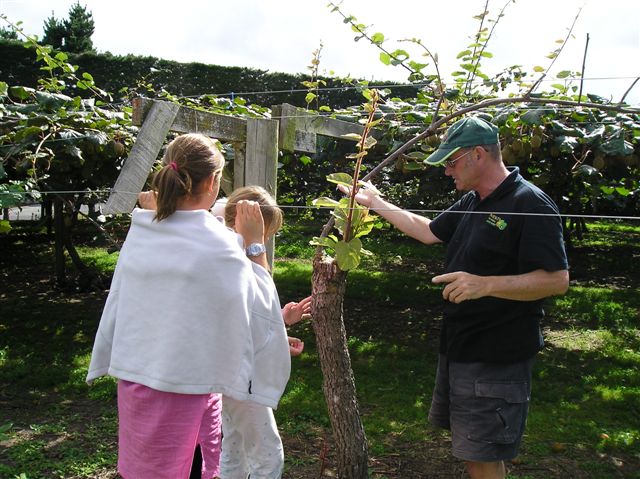 We arrived after the tours had ended for the day, so the friendly manager gave us a private tour of the orchards.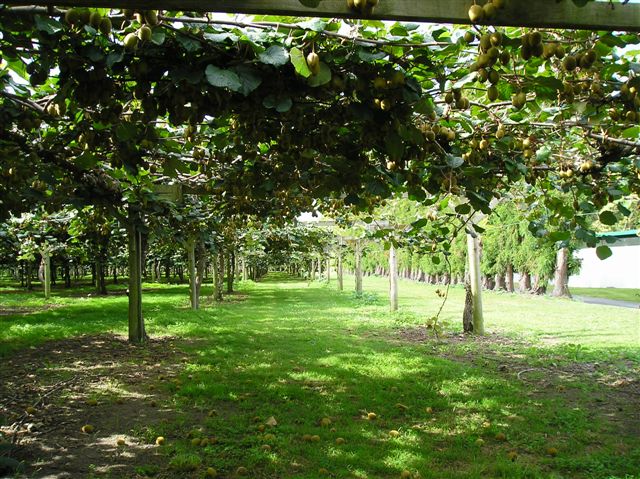 Kiwi orchards look just like grape vineyards from a distance. Before realizing they were kiwi, we thought we had run into a wine region - so for a while anyway Cheryl and Todd were very excited.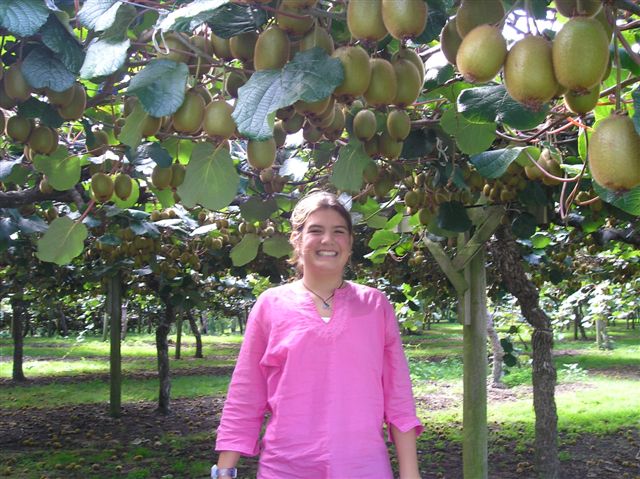 Here is Lauren in the orchard at Kiwi 360. This fruit looks ripe, but it will not be ready for picking for three more months (in April).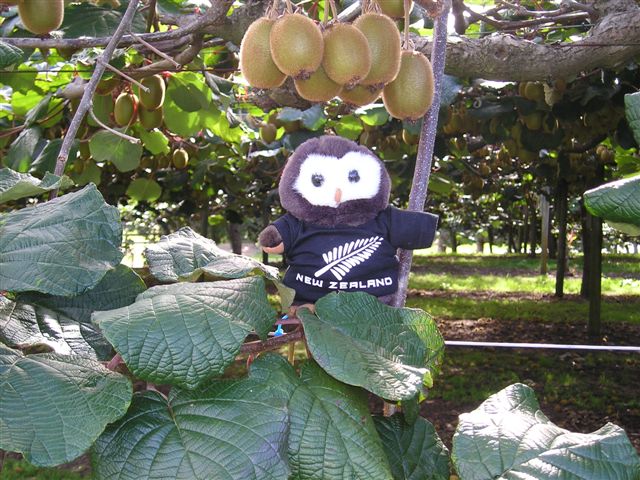 Pueo jumped into the action as well. The little fellow picked up a nifty shirt and then went to check out the Kiwi himself.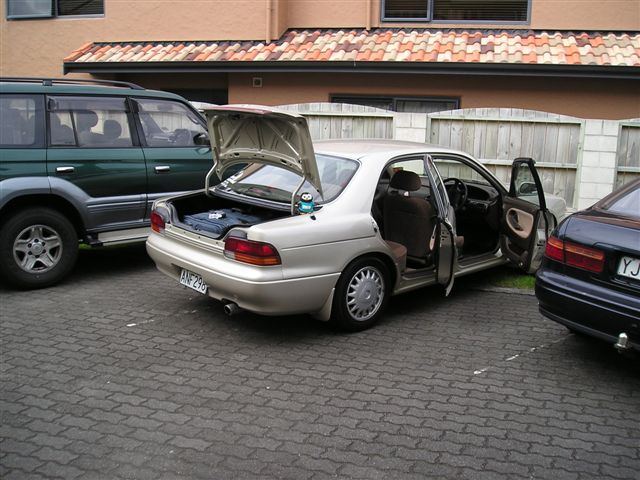 This was the car we rented in New Zealand. It was a Mazda. Notice the steering wheel on the right side.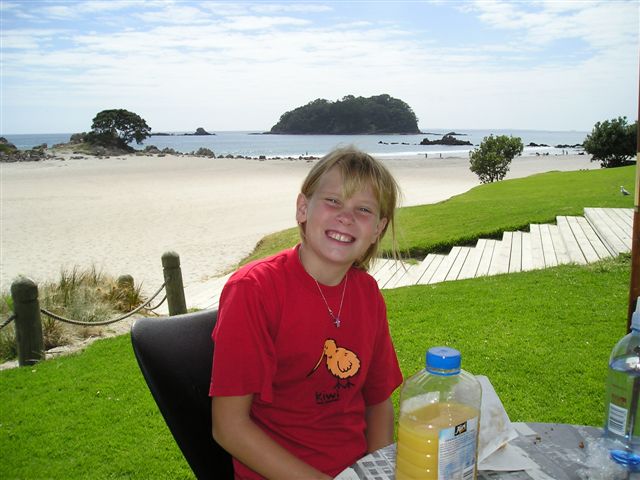 After the Kiwi farm, we drove to a town called Mt. Maunganui along the Bay of Plenty. Here is Katie having breakfast the next day.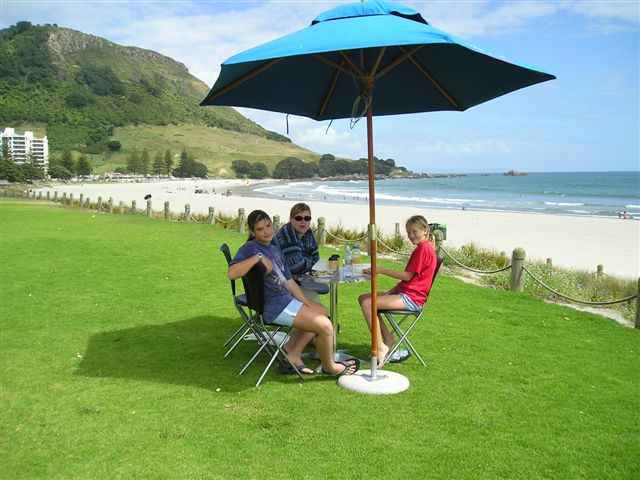 The beach at Mt. Maunganui was beautiful and empty.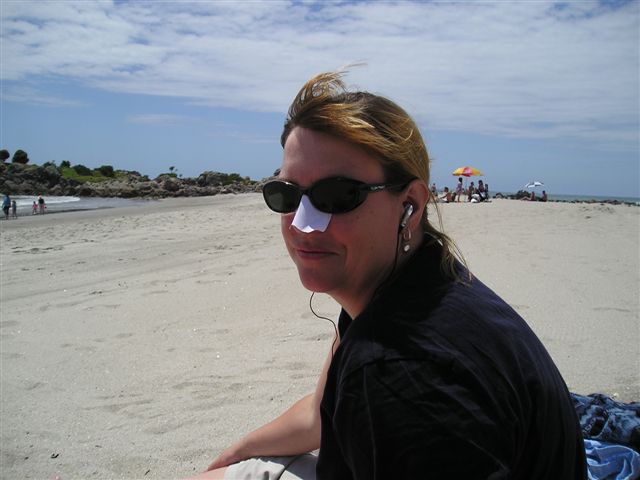 We decided to get some some sun, but we forgot our sunscreen so Cheryl decided to improvise.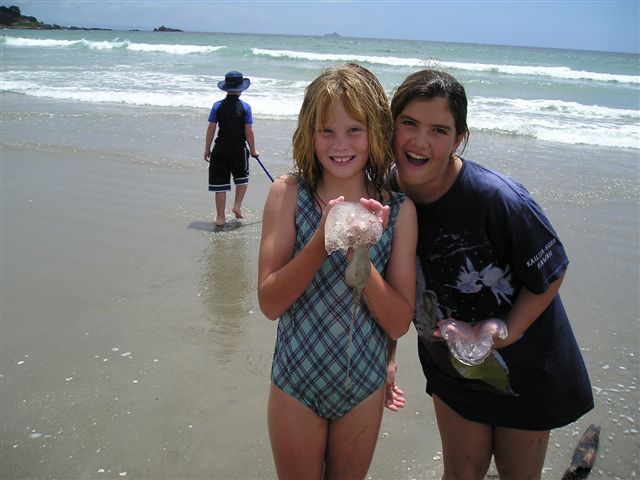 Lauren and Katie went swimming and decided to collect jellyfish. Neither Todd nor Cheryl thought to mention that many jellyfish in this part of the world are highly poisonous and they should be careful.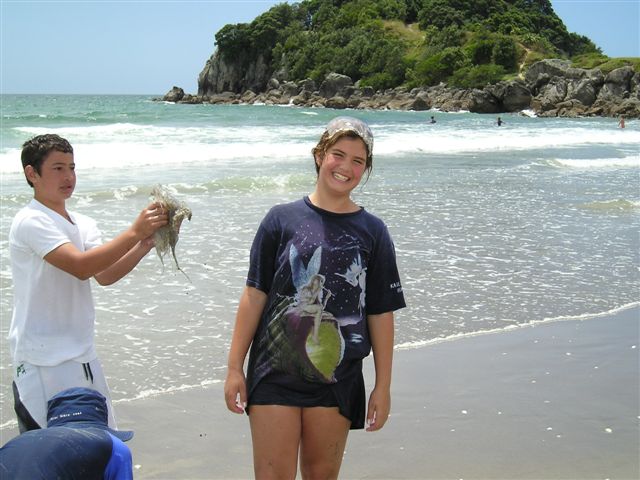 Clearly these jellyfish were harmless. We weren't so sure about the local boys though.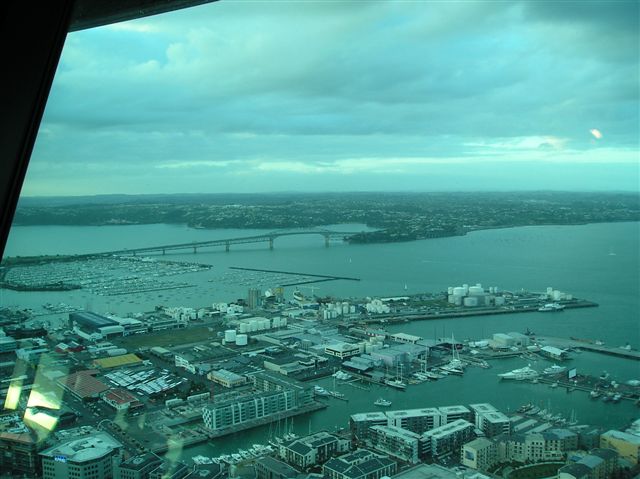 On our last evening in New Zealand, we visited the Skytower. Although it was cloudy and late in the day, we had some good views of Auckland's waterfront.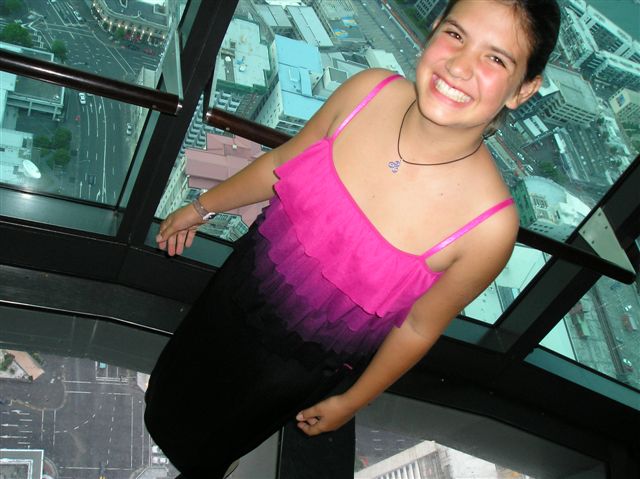 The Observation Deck at the Skytower had several glass floor areas (including the elevators) that allowed us to look straight down.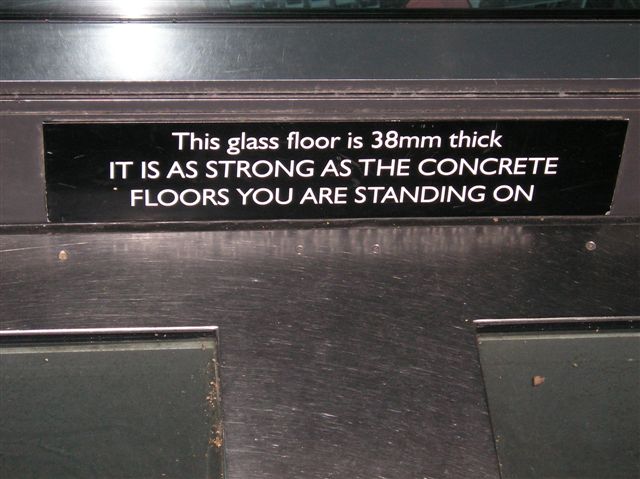 This sign next to the glass floor offers little comfort for those who have a fear of heights.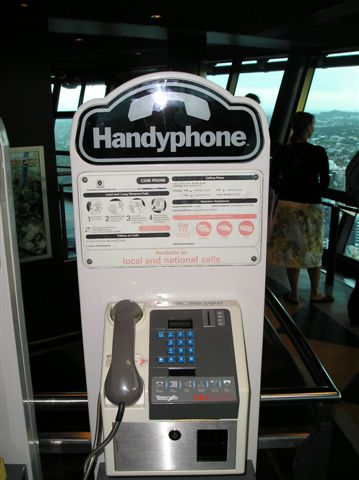 A typical phone booth in New Zealand.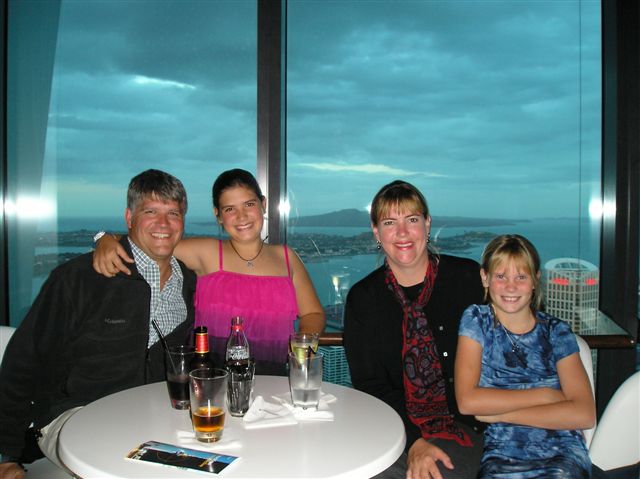 Here we are enjoying a drink before dinner at the Auckland Skytower.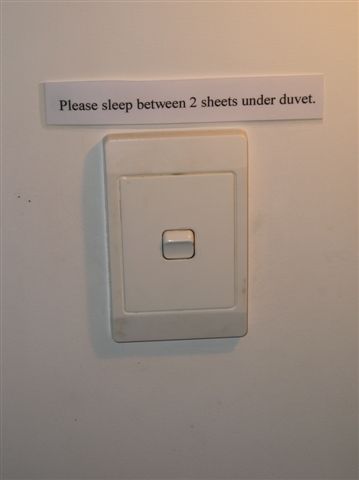 The night before we left New Zealand we stayed at a hotel near the airport. This sign was by the bed and reveals that some people in this part of the world don't know that you sleep between 2 sheets.